How a family of 14 is coping with rising costs
By Mary McCool
BBC Scotland news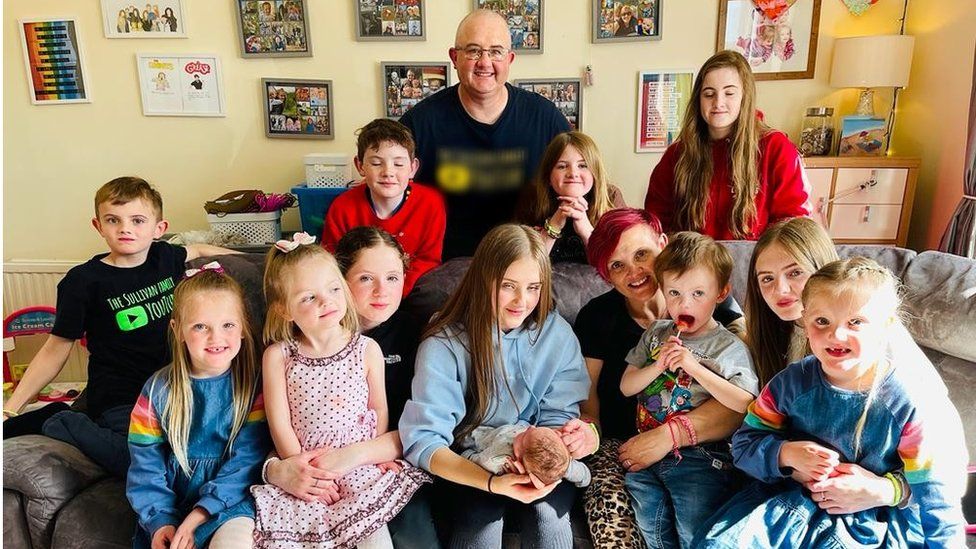 When asked how she switches off from the thrum of family life with 12 children, Zoe Sullivan jokes: "I go to the supermarket for a break."
"It's busy but it's what we've chosen to do. I think we'd be bored if we didn't have so much going on," she says.
Zoe, 43, and husband Ben, 47, are from Lossiemouth in Moray. Their oldest child is 17 while the youngest, baby Florence, is three months old.
As Ben works as an RAF engineer, the family rent quarters nearby - a four-bedroom house with a garden, which Zoe says has been a lifeline for the children, particularly during the Covid lockdown.
The Sullivan children live active lives, including dance lessons, football matches, gymnastics, college prep, art projects, home baking, and family outings.
A weekly shop costs £320 - including toiletries, cleaning products, nappies and money for the older children to occasionally buy lunches.
It's a figure that Zoe has managed to keep steady over the last few years by tracking the cost of products across various supermarkets - and avoiding name brands where necessary.
"It's quite scary," she says. "We're always counting pennies but now you really have to keep an eye on what you're buying.
"I always notice when there's been a 2p or 3p increase - the kids like to have wraps which used to be £1. They are now £1.35 so I'll be buying a different brand or buying elsewhere.
"We buy some branded products for some things we really like, for example Frosties - but if I really had to we'd swap to an unbranded version."
Zoe has simple strategies for meals that feed the whole family while cutting down on waste. They include making one-pot meals - including soups, pastas and mash using a 1kg bag of potatoes - which can be supplemented with items from the freezer.
"Meals like spaghetti bolognese are always good and cheap to make," she says. "They all like it - although we tend not to eat that much meat because it's quite expensive.
"We do a lot of stews in the winter, either vegetable or beef in a big pot which you can do fairly cheaply. But there are days people are here, there and everywhere so it'll be something quick in the oven."
Generally, the family do not eat out at restaurants or go abroad on holiday, and Zoe and Ben stopped drinking alcohol four years ago because it was too expensive.
But treats are still the main items that Zoe has cut back on for the whole family - although she says this is as much for health reasons as it is for cost. Fizzy drinks are mainly kept for the weekend, as are snacks such as chocolate and crisps.
"They had more over Christmas but we've cut back on that to maintain the rest of the stuff we do in life," Zoe says.
"If we're doing a walk to the beach, we'll take biscuits with us or we'll take a picnic because it's cheaper to buy food in the supermarket than eat out."
One food industry boss has warned that food prices could rise by up to 15% this year - and with average pay increases not keeping pace, many people are noticing the impact on their budgets.
This, Zoe says, has been the most difficult thing to keep pace with. The family's gas and electricity bills have almost doubled, from £240 to £400 per month, and they have gone from spending £120 to £180 on fuel for two cars.
"It comes out of other things like our budget for clothes," she says. "But it's a difficult one - it's how long you can sustain that for. We're used to not going to many places and we make the most of what we've got around us.
"We're not isolated as such but it can make things difficult for getting everyone around."
"We never want to come across like we're giving advice but if we help other people that's a bonus," Zoe adds.