'Daughter's long Covid makes us prisoners in our own home'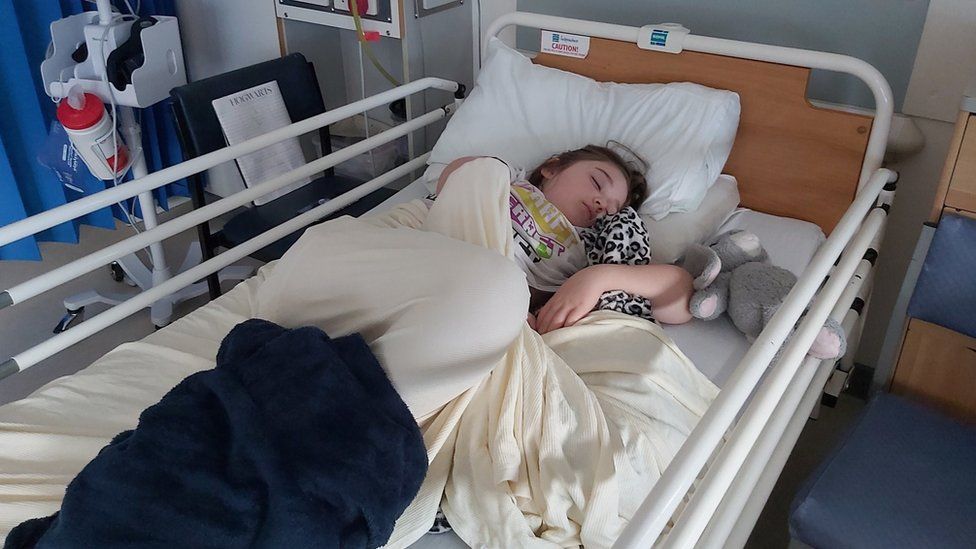 A woman whose nine-year-old daughter has not recovered since catching Covid in 2020 has told how long Covid has made them "prisoners" in their own home.
Helen Goss, who also has the post-viral condition, said daughter Anna's illness "upturned" their world.
More than 150,000 people in Scotland are thought to have long Covid.
The Scottish government said it was spending £3m per year to support care for patients with long-term symptoms.
But Ms Goss, who now represents the charity Long Covid Kids in Scotland, has called for more support - specifically for children.
She told BBC Radio's Good Morning Scotland how Anna was "unbelievably unwell" after having a mild case of Covid in March 2020 and has been unable to attend school properly since.
Anna went on to develop paediatric inflammatory multisystem syndrome (PIMS).
Ms Goss, from Westhill, Aberdeenshire, said: "A few weeks [after Anna had Covid] she got really unbelievably unwell."
Anna had a temperature of 40C, had a rash over her body, was not eating or drinking, found light painful to her eyes and sometimes could not be woken.
"It was scary," Ms Goss admitted. "I didn't sleep for about three days because I wasn't sure if I'd wake up and she'd still be there. But she's really not recovered since."
Anna said returning to school after the first lockdown was hard.
"I felt I had 5% energy every day," she said.
The school arranged home lessons through E-Sgoil, the online learning platform developed to address teacher shortages in the Western Isles.
Anna also developed "terrifying" paediatric acute-onset neuropsychiatric syndrome (PANS) where inflammatory processes cause psychiatric symptoms.
The family was told treatment was not available on the NHS, and paid for private consultations. Anna was eventually offered "simple" antibiotics and anti-inflammatories, which dealt with the syndrome.
But support for other long Covid symptoms was even harder to access.
Ms Goss said: "She's had so many tests... and everything comes back as normal, as it tends to do with long Covid in adults.
"It does suggest that we are not looking in the right places and theses tests are maybe not the right tests to be doing."
Things seemed to slowly improve for Anna, but when her family caught Covid again in July 2021 she had a more acute infection followed by new symptoms.
Since then she has had pain in her hands and legs, muscle and joint weakness and uses a wheelchair.
Anna said she was "really tired" and trying to do school work was "stressful".
"Every day we just sit at home and do bits and pieces from the sofa," Ms Goss said. "She just doesn't have the cognitive ability at the moment and she doesn't have the energy.
"The school have been incredibly supportive, although I have asked the local authority if they would provide one-on-one tutoring at home, even just 30 minutes a week, and they don't have the resources to do it."
"It has absolutely upturned our entire world, we are really prisoners in our own home," said Ms Goss, whose own long Covid leaves her exhausted, but not as ill as her daughter.
"I'm so grateful that we found the Long Covid Kids charity because, honestly, without that peer support I would be absolutely lost."
She said the annual £3m from the Scottish government was not enough to deal with the "mass-disabling event".
"We need to do some data gathering and find out the prevalence. We need to make sure there is support in place for these children who are suffering at home in silence.
"No one sees them, and we need a wider awareness that long Covid in children is real and it can be devastating, and nobody seems to be listening or really care that much."
Kevin Deans, a consultant chemical pathologist at NHS Grampian who has been researching long Covid, said Anna's case "brings home just what a devastating condition long Covid is" and emphasised how "we need to move faster" to increase resources.
"While people often talk about how there's a lot we don't know about long Covid, there is also a lot we do know," he told BBC Scotland.
He said the key long Covid features identified so far were an autoimmune process that some people may be predisposed to, mast cell activation, and a process called micro-clotting - where tiny blood clots can cause reduced oxygen supply to tissues.
"These give us a clue to what treatments can be effective," Dr Deans said.
He said long Covid clinics with specialist doctors were needed "urgently" despite the expense, and numbers of long Covid sufferers were likely to be underestimated.
"One group of people where I think that is particularly the case is people who have developed long Covid-type symptoms after having the Covid vaccine," Dr Deans added.
"While the Covid vaccine has saved lots of lives and at population level has been a good thing, we're now uncovering evidence that some people are developing this same kind of presentation - long Covid - after the vaccine, and it seems that has triggered it."
A Scottish government spokesman said they were "determined everyone with long Covid gets the care and support that is most appropriate for them, regardless of their age".
He said they were spending £3m this year to improve care for long Covid patients.
"An example of this can been seen in NHS Greater Glasgow and Clyde where resource has been allocated to support the recruitment of an additional paediatric occupational therapist to provide support to children, young people and their families," he said.
A national long Covid strategic network would work with the NHS, clinicians, young people and their families to "develop the best models of care", he added.
Alex Cole-Hamilton, leader of the Scottish Liberal Democrats, has been campaigning for Scotland to establish long Covid clinics and care pathways similar to those in England.
He told Radio Scotland the Scottish government's £3m was £22 for each long Covid sufferer.
"I don't know why we are offering such a second-class service to Scottish sufferers," he said, adding that stories like Anna's of "childhood ruined" were "heart-breaking".
"There will be lots of children around the country who are currently trying to do a little bit of school work every day from the sofa, like Anna is."
He added: "Everyday, more people are succumbing to Covid, and every day, by extension, more people will begin to experience long Covid symptoms as well.
"This number of 150,000 is just the starting point. It's being added to all of the time and government are not even out of the starting blocks in response to that."