Why did lockdown boost golf in Scotland?
By Ben Philip
BBC Scotland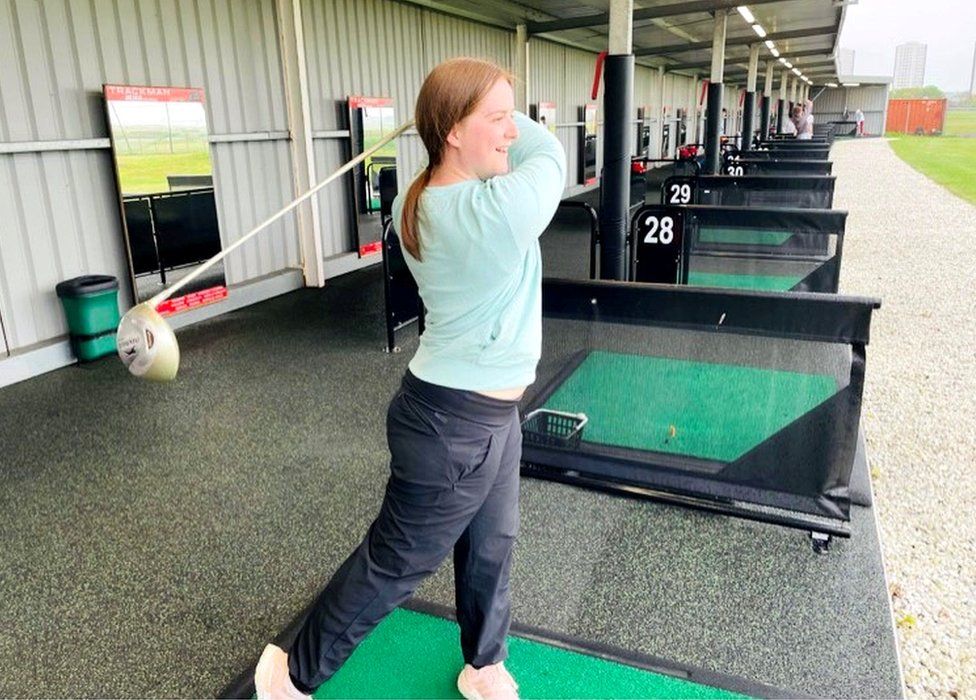 Jodie Stalker took up golf for something to do outdoors during the pandemic because she could no longer play netball indoors.
The 27-year-old said her new hobby was due to the frustration at her usual routine being disrupted.
Her story is not uncommon, as recent data has suggested there are now more people playing golf in Scotland than before the pandemic.
There are now more than 200,000 golfers registered across the country.
Golf is one of Scotland's most famous exports.
In July, The Open Championship will be held at the sport's birthplace at St Andrews.
The oldest major marks its 150th tournament this year, returning to the fabled Old Course for the first time in seven years.
Recent data from Scottish Golf and the R&A - the organisation that governs golf worldwide - found that 5.3 million adult golfers played nine or 18 holes in Great Britain and Ireland in 2020.
The latest figures for 2021 show the figure dropped to 4.8 million, still considerably higher than the 3 million recorded in 2019, prior to the pandemic.
It is thought much of the surge in players has been down to the sport's ability to be played safely outdoors while other sports including football and rugby were subject to Covid restrictions.
Teaching assistant Ms Stalker, from Ellon in Aberdeenshire, took up the game early last year.
"I couldn't go to netball - golf was something I could go and do instead," she told BBC Scotland.
"It was outdoors and you didn't have the fear of catching Covid or taking Covid back to my family.
"It was a bit daunting as there's a lot of golf etiquette - you're just this numpty on the golf course that's hitting your ball into the long grass.
"But everyone has been very supportive and now I'd go to any golf club and play."
Karin Sharp, chief operating officer of Scottish Golf, described the situation as "hugely encouraging".
She said: "There's no secret that over the last 10 years membership numbers across the game in Scotland have been in decline.
"However, 2020 saw an uplift of just under 7% and last year saw a further uplift of more than 7%.
"We now have a total playing membership of 208,000 golfers registered across Scotland and that's the highest its been since 2012. It's great to see and hopefully it can be sustained moving forward.
"It's now on us as a sport to ensure that the people who have come back into golf taken up golf in the past couple of years, that we work with clubs to keep those players engaged in the game."
It has been a real shot in the arm for Scotland's 550 golf courses.
Inverurie Golf Club in Aberdeenshire has seen an increase of more than 100 members during the pandemic to 760.
Ashley Wilson, the club manager, said: "Demand for golf increased significantly. We actually had to curtail our members and enforce a restriction of three rounds per week per member because the demand was that significant."
Much of the success at Inverurie has been down to its junior programme.
Before the pandemic, there were only two junior members at the club and now more than 100 young players attend weekly training sessions, run by dozens of qualified coaches and volunteers.
"It's the future of the club," said Ben Zanre, the junior convenor.
"I think mums and dads after the strictest restrictions were lifted wanted to get their kids doing activities outside
"I think there's a perception that golf isn't accessible to all. However, I think it's as accessible as it ever has been and golf clubs across Scotland are crying out for juniors."
Now that life has largely returned to normal, competition has once again ramped up to secure people's time.
However, it is hoped major competitions such as The Open being held in Scotland will encourage even more people to take up an interest in the sport.