Queen's life at Balmoral celebrated in exhibition
By Rachel Bell
BBC Scotland reporter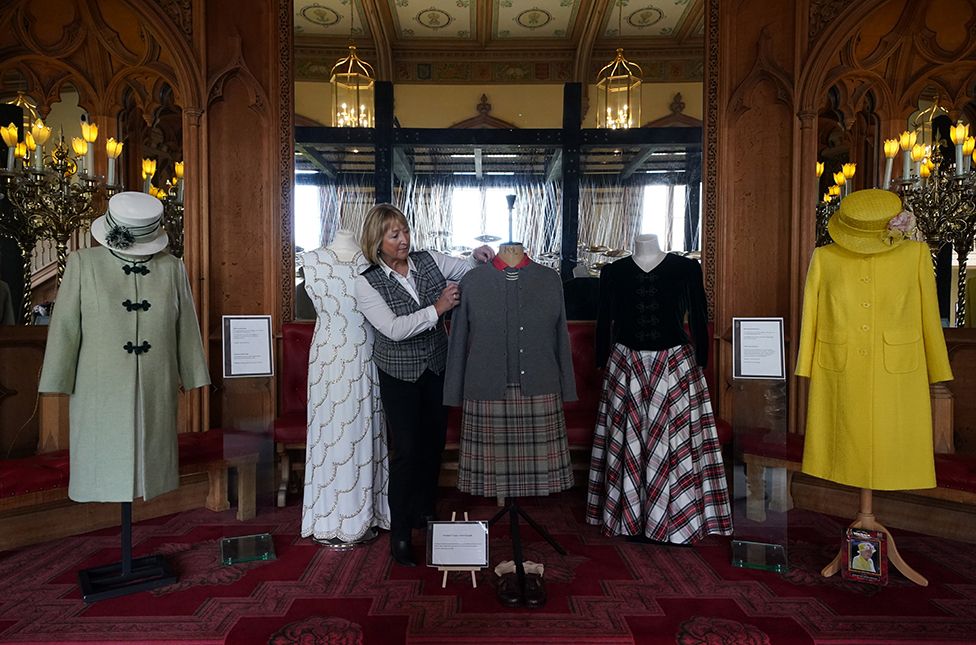 The Queen's relationship with her Scottish summer holiday home at Balmoral is being celebrated in a special exhibition to mark her Platinum Jubilee.
The display at the castle in Aberdeenshire opens on Friday and the centrepiece is an art installation highlighting the plight of salmon conservation.
It is a cause important to Her Majesty and the Balmoral Estate, through which the River Dee runs.
The exhibition in the castle ballroom is to honour her 70-year reign.
The castle, in the heart of Royal Deeside, has been the Queen's Scottish holiday home for decades.
Called "Life at Balmoral", the exhibition covers various aspects of life on the estate.
At its heart is an imposing sculpture called "Salmon School".
It is the first contemporary art installation to be put on display at one of the Queen's homes.
Artist Joseph Rossano said: "This piece represents roughly 1% of all the salmon returning to the Dee.
"The estate and the Dee Trust that's been supporting this project are trying to impress upon people what this looks like and how, when we see ourselves reflected in it."
Assistant curator Sarah Hoare said: "'We have five dresses which we've been very lucky to have this year.
"We have two ballgowns, which have been worn to the Ghillie's Ball, which we hold here every year in this very ballroom."
The exhibition runs until 2 August.
Meanwhile, two classic cars on loan from the Royal collection at Sandringham Estate are starring at Grampian Transport Museum in Alford, Aberdeenshire, as it opens its doors for the 2022 season on Friday.
They are a 1900 Daimler Mail Phaeton and 1924 Daimler Shooting Brake.
Museum manager Ross McKirdy said: "It is a great honour to have been loaned these magnificent Royal cars in this Platinum Jubilee year."
All images are copyrighted, Balmoral images by Rachel Bell, BBC Scotland.