Covid in Scotland: Spread of infections in Moray is 'uncontrolled'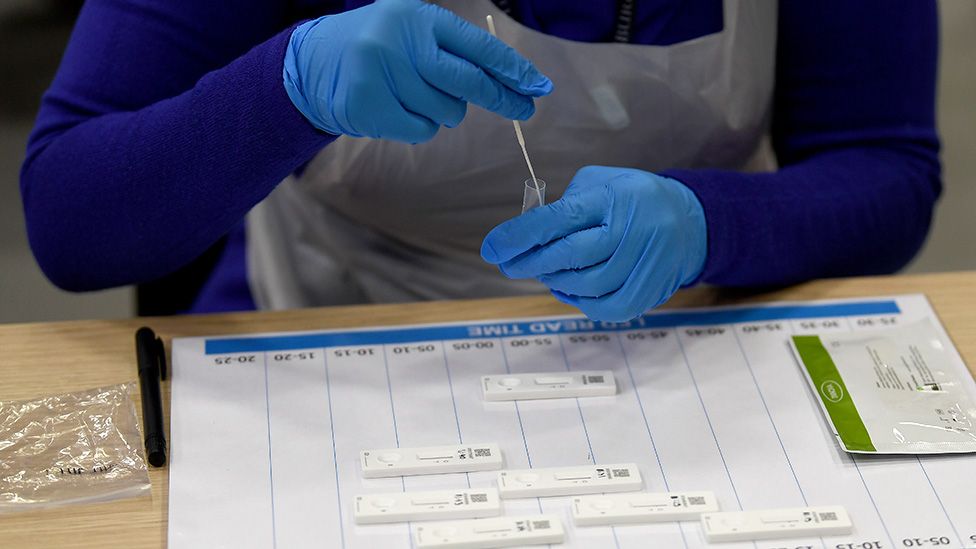 Moray is experiencing "uncontrolled, sustained community transmission" of Covid-19, public health officials have warned.
Chris Littlejohn, deputy director of public health at NHS Grampian, said the situation was "rapidly deteriorating".
The region currently has an infection rate of more than 81 cases per 100,000 - four times the Scotland-wide level.
Mr Littlejohn said there would be deaths if the outbreak could not be controlled.
Covid hospital admissions in NHS Grampian have been mainly rising since mid-April.
"We are urging everyone to protect Moray and get tested, even if they have no symptoms," Mr Littlejohn said.
"We hope that by intervening further now we can avoid the possibility of further restrictions or a continuation of level three in Moray - but we need to act now and we need the people of Moray to act with us."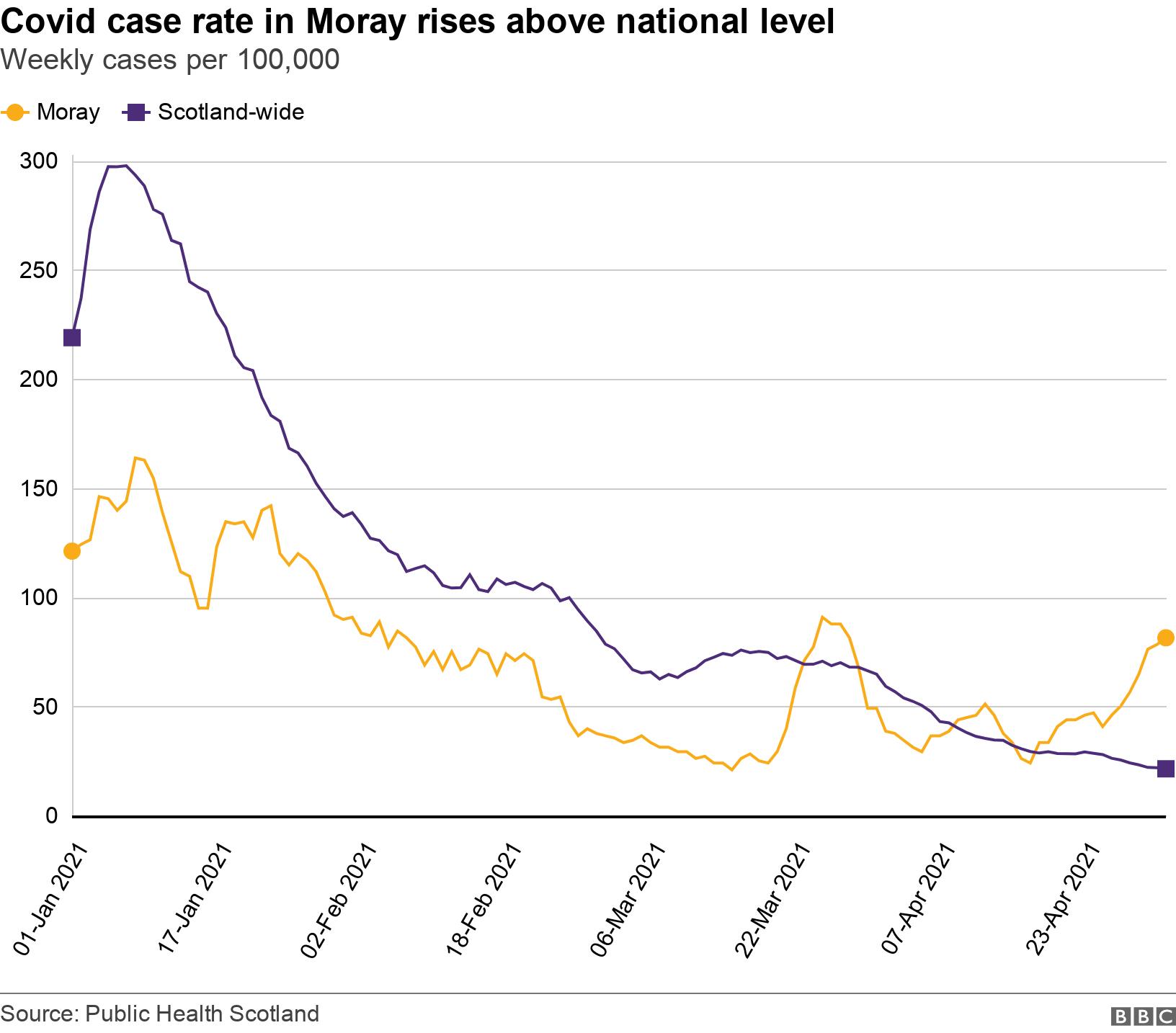 Mr Littlejohn said the current Covid restrictions in Moray were not working to contain the number of cases.
"We are seeing hospitalisations from this - including in the under 50s - and we will see deaths, if the situation is not brought under control," he said.
The situation in Moray is a test of Scotland's much enhanced Test and Protect system. Mobile units and surge testing have been used in other areas but here they are dealing with a series of unrelated clusters and community transmission.
Actively encouraging people to come forward will root out cases in asymptomatic people that may previously have gone undetected. It does mean the numbers in Moray are likely to remain higher for a while longer.
The key will be how much pressure does it put on hospitals? The vaccine has proven to be effective but there are still many people to get either a first or second dose. Officials will be watching carefully.
On Wednesday there were 17 Covid patients in NHS Grampian hospitals - higher than any other health board - though this figure dropped to 11 on Thursday.
Health officials have pinpointed Elgin as the "epicentre" of the outbreak, but rising levels are also being seen in Lossiemouth, Buckie and Keith.
Mobile testing units are being sent to the area and door-to-door testing is being considered in Elgin.
Mr Littlejohn added: "Since 10 April we have seen 210 cases in Moray. More than half of those have come in the last eight days alone. This is a rapidly accelerating situation.
"Test positivity in Moray is at 3.2% - across Scotland that figure is close to just 1% - and the R-rate in Moray is at 1.8, so every person in Moray that becomes infected is, on average, passing it on to two other people."
"Analytics have shown us many people in the region have returned to their workplaces, rather than working from home. It remains the advice people should work from home where possible and we really need people to do that, where they can."
On Wednesday, NHS Grampian announced that 48 Covid cases were being linked to Elgin Academy, but parents were assured that it was still safe to send their children there.
Jillian Evans, the head of health intelligence at NHS Grampian, said the health board was expecting cases to rise still further in the coming days.
"This is something much more widespread in the community which is why we need such targeted action and people to really to take up their guard, to try to do their best particularly as we start to think about easing restrictions further," she said.
"When you see a big drop in infection rates it's usually the result of a lockdown situation. We're not talking about doing that, of course not, but we are thinking very carefully about what this means for easing restrictions further.
"It would seem wrong to consider moving down a level while you've got infection rates that continue to rise."

Dr Evans also confirmed that a number of the recent NHS Grampian hospital admissions were Moray residents and that the increase in admissions was "more than we would expect".
The Moray Chamber of Commerce said the rise in Covid cases was "worrying" as businesses in the area were looking forward to a further easing of restrictions.
In a statement, the chamber added: "It is crucial that everyone follows the guidelines to protect the NHS and help to contain and bring the case numbers down so we can move to level two along with the rest of Scotland.
"Being able to trade brings a glimmer of hope that together we can push through this towards something resembling normality."