Covid: More than 50 isolating after helicopter flights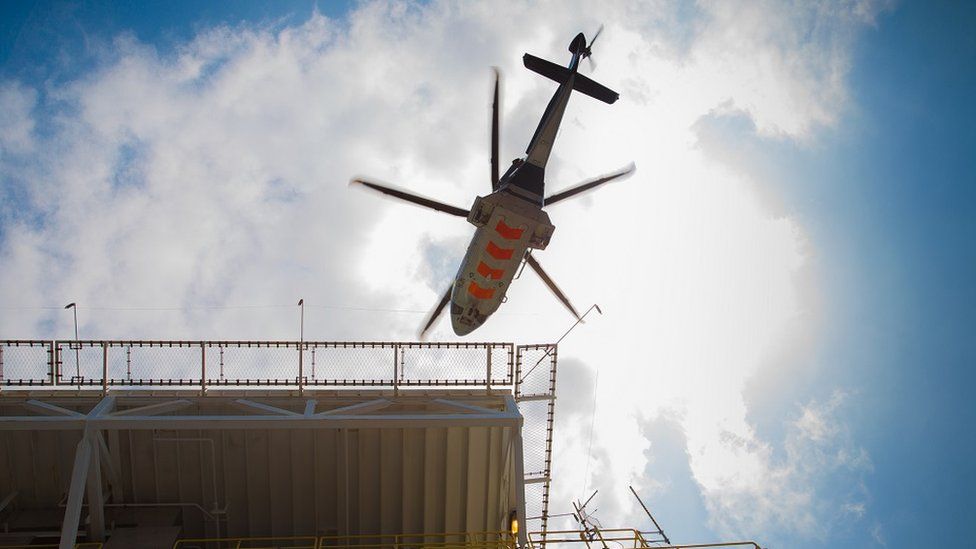 Fifty-four oil workers have been asked to self-isolate after sharing North Sea rig helicopter flights with colleagues infected with Covid-19.
The move forms part of oil and gas company TAQA's response to seven people testing positive after working in the Brae field.
Eighteen people have been identified as close contacts of the seven and taken off the rigs they were working on.
TAQA said 54 may have come into contact with infected workers on flights.
The seven workers who have tested positive had left installations in the Brae field between 29 September to 6 October. TAQA said they had developed minor symptoms.
Three of them had been working on the Brae Alpha platform and four on East Brae.
Non-essential crew are to be taken off the two platforms for a period of seven to 10 days to further minimise any risk of transmission of Covid-19.
TAQA said: "In addition, a further 54 individuals who may have also come into contact with those infected from shared helicopter flights were contacted as part of TAQA's response and advised to follow Scottish government test and protect public health measures and quarantine at home for 14 days."
The company added: "We have clear procedures in place in relation to hygiene and social distancing measures on board and for handling suspected and confirmed cases of Covid-19.
"We continue to work with the relevant authorities and agencies to assess and respond to any Covid-19 related situations in line with UK government and Health Protection Scotland guidelines."
Earlier this week it emerged workers had been removed from two North Sea oil and gas platforms after colleagues tested positive for Covid-19.
Fourteen people were taken off Shell's Nelson rig after being identified as close contacts of a positive case.
BP said one person on its Andrew platform had experienced Covid symptoms and was taken ashore where they later tested positive.
Four close contacts were identified and they have also been taken off the rig.