Two positive coronavirus cases at RAF Lossiemouth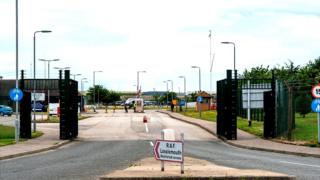 Two people have tested positive for coronavirus at RAF Lossiemouth in Moray.
They are believed to be non-airforce staff, working for the contractor Volker Fitzpatrick at the base.
Those involved were not showing any symptoms of Covid-19 but were picked up during regular antibody testing of the Volker Fitzpatrick workforce.
One of them has now tested negative for the virus and the other is awaiting results of re-testing.
RAF officials said the work of the base had not been affected but that all necessary measures were being taken.
In a statement shared on social media on Tuesday evening, Group Captain Chris Layden said: "As station commander I've been briefed that there have been two suspected cases of Covid-19 among the Volker Fitzpatrick workforce who are delivering the essential runway works here at RAF Lossiemouth.
"The workers concerned have immediately been isolated and are undergoing further testing, in accordance with NHS Scotland recommendations.
"They were displaying no symptoms but were identified through testing which Volker Fitzpatrick has been voluntarily conducting with the consent of their workforce."
'Necessary protocols'
He added: "RAF Lossiemouth is continuing to deliver its vital work in the interests of national security, but we are stringently observing the necessary protocols, to protect both the military community and our wider Moray family."
Volker Fitzpatrick has been working on the runways and operating surfaces at RAF Lossiemouth since December 2019, preparing the station for the arrival of its new fleet of P-8A Poseidon Maritime Patrol Aircraft later this year.
On Wednesday, Volker Fitzpatrick released a statement saying that the company had initiated a "comprehensive regime" of Covid-19 antibody testing, using a commercially available test kit.
It said: "On Monday, two of our workforce showed positive antibody test results for the virus. They immediately self-isolated and followed the guidance set out by NHS Scotland. NHS Inform were made aware of these results.
"Our first priority was to ensure the wellbeing of these individuals. Once we were satisfied that our people were receiving the support they required, we liaised with our MOD counterparts to establish the facts.
"We arranged for antigen testing to take place at the NHS facility in Inverness. We are pleased to report that one of the tests has returned a negative result, and we are awaiting confirmation of the results of a retest on the second individual."
The statement said that the daily routine at the RAF Lossiemouth begins with 20% of their workforce receiving an antibody test, so that the whole workforce is tested every week.
Scottish government clinical director Prof Jason Leitch mentioned the incident in the daily coronavirus briefing.
He confirmed that two people who work at RAF Lossiemouth had tested positive for the presence of coronavirus antibodies, suggesting they had previously been infected.
He added: "Clusters are easier to deal with than sustained community transmission, so we can use precision public health measures, health protection teams, to go to and manage that individual cluster and control it.
"That's a much easier process than having to suggest to the cabinet secretary and the first minister that 'we've got community transmission again, could you please think about locking down either an area or the whole country'."
'Much concern'
Moray MSP Richard Lochhead responded to the incident via social media, saying that tensions had increased over contractors travelling in and out of the area.
He said: "Tonight I met local community groups and discussed the situation as there has been much concern expressed in recent months in connection with the number of workers travelling to work at the base, many of whom commute to other parts of the UK perhaps every couple of weeks.
"I do welcome all the steps that have been taken so far to reduce the risk but there is a view that more needs to be done.
"I am now in discussions with the authorities and local community representatives to explore if anything more can be done to keep the public, service, families, contract workers and the local community safe."