Kincorth Hill fire 'deliberate', say police in Aberdeen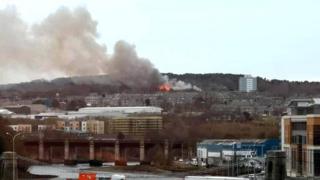 A fire at an Aberdeen nature reserve was started deliberately, police have confirmed.
Fire crews were alerted to the large blaze at the Kincorth Hill local nature reserve shortly before 09:00 on Wednesday.
Two pumps and a special forestry unit extinguished the blaze on the land known locally as the Gramps and no one was hurt.
Smoke from the fire could be seen across the city.
Sgt Kevin Souter said fire raising is "extremely reckless" as there is "limited control over how it may develop".
He issued an appeal for information and urged anyone in the area who saw anything suspicious to contact Police Scotland's non-emergency line or Crimestoppers.