Shell launches Greenpeace legal action over North Sea protests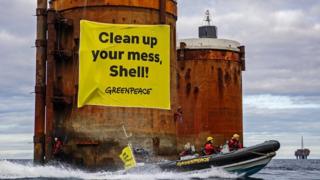 Energy giant Shell has launched a legal action in a bid to stop environmentalists from boarding unmanned North Sea installations.
Lawyers acting for Shell have gone to the Court of Session in Edinburgh seeking an interim interdict against Greenpeace.
It follows protestors boarding platforms in the Brent field off Shetland last month.
Greenpeace claims an order would breach its right to protest. 
Shell is seeking to prevent Greenpeace protestors from breaching a 500m (1,640ft) safety zone around platforms in the Brent field. It claims the protests could create serious safety risks.
Advocate Jonathan Barne QC, acting for Shell, said the platforms were unsafe and unmanned and that environmentalists could injure themselves.
Mr Barne said the company was duty bound to ensure that protestors did not hurt themselves.
Anchor points
He added: "We're talking about protecting people's lives. They (Shell) still own these structures. They are still responsible for them.
"One of the protestors could for example be engaged in graffiti painting and is hit on the head by a tin of paint which has fallen and they could be knocked into the sea.
"The defender suggests that the pursuer's safety concerns are overblown.
"But no matter how well prepared these protestors are one cannot simply know the condition of the anchor points or any part of the structure which they are climbing upon."
Greenpeace claims Shell's plans for decommissioning the installations will cause environmental damage.
Its advocate James Mure QC urged Lady Carmichael to reject the bid.
He said the organisation had a right to protest and that Shell had failed to show that this could be compromised.
He also said Greenpeace had an "excellent safety record" and that its protestors would look after themselves.
Mr Mure added: "The only death that I'm aware of is when the first Rainbow Warrior was blown up in New Zealand."
Judge Lady Carmichael will give her ruling on 4 December.