Workers evacuated from North Sea platform off Shetland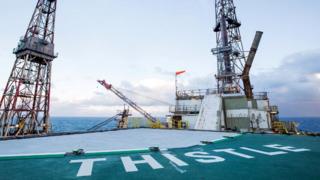 A North Sea oil platform has been shut down and all 115 workers taken off after a subsea structural inspection.
EnQuest said it evacuated the Thistle platform, about 125 miles (201km) north-east of Shetland, in a precautionary move on Monday evening.
The company said personnel were transferred to the nearby Dunlin Alpha platform by helicopter.
The coastguard said its Sumburgh helicopter and one from the Norwegian offshore sector were involved.
The RMT union said the speed of the operation suggested "quite a significant event".
EnQuest later said the inspection related to a "support element on a redundant subsea storage tank".
The company's North Sea managing director, Bob Davenport, said: "The safety of our people is our absolute priority. Our offshore installation manager took proactive action to transfer everyone from the platform as a precaution following yesterday's inspection.
"This was carried out safely and quickly, with plans then made for their onward travel home. Further inspection work will be conducted and the platform will remain shut,down until that has concluded and any necessary remedial action undertaken.
"I'd like to thank everyone involved for their support including the team onboard Dunlin, employees, contractors and the Maritime and Coastguard Agency."
Coastguards had been made aware of the situation at about 18:30.
Jake Molloy, from the RMT union, said the evacuation was a very unusual set of circumstances.
He told the BBC's Good Morning Scotland programme: "You don't shut a platform down and remove over 100 people if you haven't got concerns.
"For structural integrity reasons this is only the second time that I can remember in 40 years.
"The last one was the Ninian South pending the Beast from the East arriving.
"This is quite serious, there's no storms, there's no significant weather problems. They've clearly found an issue which needs further investigation and they've thought it necessary to take a precautionary down-man as they call it."
He added: "It was the speed at which it was done, and the fact that they are utilising Norwegian aircraft that suggests this is quite a significant event - the haste and the pace to get people off."
EnQuest has set up a response line for relatives on 0845 271 2201.