Greenpeace protest at Shell platform in Brent oil field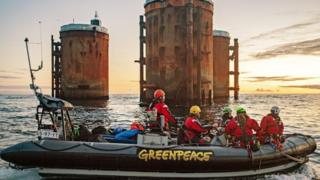 Two Greenpeace campaigners have boarded Shell's Brent Alpha platform in the North Sea.
A protester from the environmental group has also climbed on to a concrete leg of the decommissioned Brent Bravo platform.
Greenpeace is protesting against the method of decommissioning platforms in the Brent oil field which is about 116 miles (186km) north east of Shetland.
Shell said its "prime concern" was the safety of its staff and the protesters.
Greenpeace is opposed to what it has described as "thousands of tonnes of hazardous oily sludge" being left inside the concrete legs of decommissioned platforms.
'Properly decontaminated'
Dr Doug Parr, policy director at Greenpeace, said: "We do think it's important to establish the precedent about how to deal with pollution that sits with those rigs as they are decommissioned.
"If we don't establish the right precedents, there are hundreds of rigs out there and we need to ensure that when they are properly brought onshore that any pollution, or any infrastructure like the concrete legs in this case, that can't be removed will be properly decontaminated."
Shell said that, along with its partner Exxon Mobil, it had spent 10 years conducting in-depth research into decommissioning the Brent platforms as part of a "tightly-controlled regulatory process" managed by governments.
It said its recommendations were the result of more than 300 scientific and technical studies, and these were reviewed by an independent group of "eminent scientists".
A spokesperson for Shell said: "We can confirm that two protestors have boarded the Brent Alpha platform and one has climbed on to the Brent Bravo concrete legs.
"Their safety and that of our workers are our prime concern at this moment."
Police Scotland said it was aware of the situation in the Brent oil field and was liaising with partner organisations to ensure the matter was resolved safely.