Two rescued after boat runs aground near Hopeman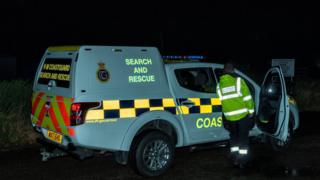 Two people have been rescued from a boat which ran aground in Moray.
HM Coastguard were called to the incident shortly after 20:00 on Monday after the vessel got stuck east of Hopeman.
Officers from Burghead swam out to the boat, which was about 50m (164ft) from the beach on rocks.
Police were alerted after a flare was launched, while Moray Inshore Rescue, Buckie RNLI and the Inverness Coastguard helicopter also attended.
The two people were rescued within half an hour - the boat remains on the rocks.
A spokeswoman from HM Coastguard said: "We received a 999 call from a two people on board a 15ft powerboat saying they were adrift off Hopeman Harbour, Moray.
"When Burghead Coastguard Rescue Team arrived the vessel was 50m from the shore and heading towards the rocks, the team carried out a water rescue and brought the two men to shore. Both where safe and well and did not need medical attention.
"The powerboat is now on the rocks and attempts to recover the vessel will be carried out in daylight hours."