Former Aberdeen deputy provost on trial for sexual assault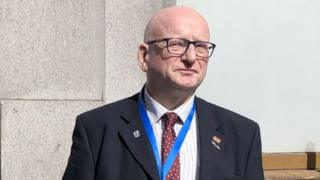 The former deputy provost of Aberdeen touched a man on his hand and beard at an event in the city, it has been claimed in court.
Conservative Alan Donnelly went on trial at Aberdeen Sheriff Court after denying sexual assault.
Giving evidence behind a screen, his accuser claimed Mr Donnelly had given him his business card and requested he contact him on his personal number.
The man - who was working at an event - said he felt uncomfortable.
The first day of the trial heard the witness - who cannot be identified for legal reasons - was working at an event at a city centre venue in Aberdeen in November last year.
He claimed Mr Donnelly approached him, made comments about him being good-looking, and asked him questions about where he was from.
A short time later in the evening, Mr Donnelly was said to have approached him a second time, touching him on his hair and face.
Disturbed by encounter
He was then alleged to have given the man a business card, asked him to contact him on his personal number, before kissing him on the cheek.
The court heard how the man had told colleagues at the event what had happened.
He said he had been left disturbed by the encounter, and said that it had affected his ability to focus on his studies.
He later contacted police in December to complain.
Under questioning by Mr Donnelly's lawyer David Sutherland, it was suggested to the alleged victim that Mr Donnelly had in fact not touched him on the night in question, and that the business card had been given to him the following weekend at a separate event.
To both of these suggestions, Mr Sutherland was told that was not correct.
The case was adjourned until October.