Plans for more than 500 homes on outskirts of Aberdeen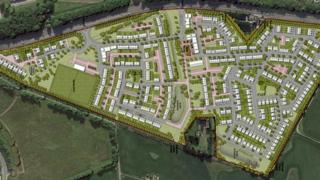 Plans have been submitted for more than 500 homes on the outskirts of Aberdeen, some of which could use "pioneering" hydrogen fuel cells.
Cognito Oak is seeking permission in principle for about 550 houses to the east of the A92 Ellon road at Cloverhill, Bridge of Don.
The proposals include 30 homes being powered by hydrogen fuel cells.
The developers said the pilot testing in a residential development would be first for Scotland.
A supporting statement which has been lodged states: "Cloverhill's Aberdeen Hydrogen First initiative proposes to incorporate micro-CHP fuel cell technology into 30 homes.
"This will act as a pilot scheme from which performance data will be gathered to allow the independent analysis of the performance of this technology, facilitate comparison against alternative low carbon technologies and help inform decisions regarding its integration into future developments in the city.
"The pioneering, independent testing of a low carbon technology in a residential development would represent a first for Scotland."
It adds: "The vision for Cloverhill is to create a new sustainable community, sitting between Bridge of Don and Aberdeen beach, providing a high quality, sustainable and healthy lifestyle for its residents, businesses and the wider community."
The plans also include affordable housing, with community and sports facilities.