Aberdeen special needs school criticised over 'failings'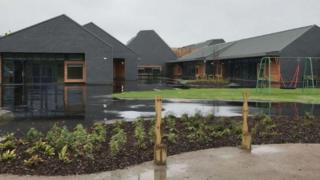 A series of failings have been identified at an Aberdeen school and nursery for pupils with special needs.
It is claimed some of the practices at Orchard Brae put children at risk.
A report by Education Scotland branded the service "weak in many areas" and highlighted a lack of calm which left some pupils upset.
Aberdeen City Council said the findings were "disappointing" and that it has "work to do to fulfil the ambitions for the school and its pupils."
Questions have been asked about the safe administration of medication, a lack of first aid training for staff, and ineffective procedures to help protect children from harm and neglect.
A maximum of 12 children can attend the school's Howes Road Centre at any one time, with a maximum of 10 at Ashgrove Centre. In addition, there were 39 children enrolled in the nursery at the time of the inspection.
Education Scotland graded it "weak" in the following areas:
Quality of care and support
Quality of environment
Quality of staffing
Quality of management and leadership
The report found that the team "work hard as individuals" but "there is not yet a fully developed ethos of team or collegiate working shared between practitioners".
Lack of records
In their interaction with children, staff were told they "should pay careful attention to how their facial expressions, volume of speech, positioning and movement across spaces impact on children".
"There is not yet a calm or low arousal environment for most children across the majority of their time at nursery," it added.
Elsewhere, the inspection found a lack of adequate medication procedures and a lack of records kept, while most staff "did not have up to date knowledge and skills to administer first aid", placing children at risk in the event of an accident.
The report also highlighted a temporary partition which separated the nursery playroom from an adjacent primary class.
"This meant, at times, the playroom was noisy and there had been occasions when objects had been thrown over. This did not support children to feel comfortable, relaxed and ready to learn," it added.
The inspection listed five requirements and five recommendations for Orchard Brae to improve services.
Councillor John Wheeler, convenor of Aberdeen City Council's education operational delivery committee, said an action plan had been developed.
He said: "The findings outlined in the Orchard Brae School inspection report are disappointing and it is clear we have work to do to fulfil the ambitions for the school and its pupils.
"Our priority is to ensure every young person in the city has the opportunity to thrive and we are committed to moving forward in a positive and proactive manner."