Aberdeen FC shareholders vote backs private company move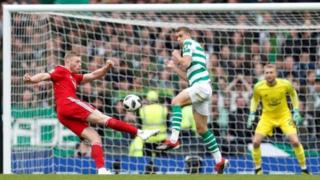 Shareholders have voted in favour of Aberdeen FC becoming a private limited company.
Chairman Stewart Milne said last month that changing from a public limited company could unlock £2m of potential investment in the club, as well as making it easier to attract more capital in future.
A circular detailing the proposal was issued to all shareholders.
A vote was held at a general meeting at Pittodrie on Tuesday afternoon.
When the re-registration procedure is completed, Aberdeen FC said an additional £2m of investment would be triggered for the first phase of the club's plans for new facilities at Kingsford.
This will then draw the funding for this phase to a close.
New stadium
Mr Milne said re-registration would mean the club had raised all the funding for the community sports hub, football academy and training facilities.
He added: "But, more importantly, we've paved the way for further investment in the future, which is critical to our ongoing success both on and off the pitch.
"Share subscription, along with other initiatives, will play a large part in fundraising for phase two - the new stadium, which is integral to our long-term ambition for the club and the region.
"It is the intention that both existing and new shareholders will be able to participate in the phase two share subscription."
As a public limited company, Aberdeen FC is subject to the City Code on Takeovers and Mergers.
One rule of this states that anyone who, together with associates, has shares which carry 30% or more of the voting rights in a public company has to make an offer to acquire all of the company's issued equity shares.
The club said some proposed investors were unwilling to proceed while this rule applied because they did not want to be forced to make an offer for the entire equity share capital.
In April, American businessman Tom Crotty said he would be "open" to increasing his investment in Aberdeen FC.
Crotty recently joined the Pittodrie board and has put £1.3m into the club over the past two years.
The Dons are constructing a new 20,000-seat stadium in Kingsford and could move from Pittodrie by 2023.