Improved offer in Aberdeen International Airport dispute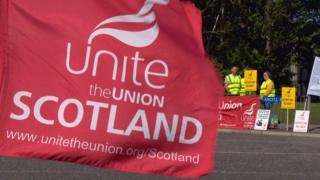 A new offer has been made in a bid to end ongoing industrial action at Aberdeen International Airport.
The dispute is between AGS Airports and the Unite union over pay and pensions.
Fresh talks in Aberdeen on Tuesday afternoon were described as "positive and constructive".
Airport managing director Steve Szalay said: "We, once again, tabled an improved pay offer which the unions have agreed to take back to their members who will now be re-balloted."
Unite said it would consult its membership on the offer over the coming days, however, it added that two days of planned action were still scheduled to take place on 27 and 28 June from 06:00 until 10:00.
Regional industrial officer Shauna Wright said: "The reality is that the latest approach by Aberdeen Airport does not significantly take us forward in any way.
"It is a two-year pay offer, which could critically result in a real terms pay cut based on the inflation figure in January 2020.
"Critically, AGS Limited has repeated their position not to reopen the pension scheme consultation.
"However, Unite is a member-led organisation and we will put this offer to our membership in a consultative ballot and ask them to decide whether this constitutes a great improvement."
There has been ongoing action at both Aberdeen and Glasgow airports as part of the dispute.
Unite members at Glasgow Airport are also set to stage further strikes later this month.
They are planned for 21 June between 08:30 and 14:30, 24 June between 06:00 and 10:00, 26 June between 10:00 and 14:00, 28 June between 09:30 and 13:30, and 30 June between 17:00 and 21:00.