Aberdeen council tax to increase by 4.5%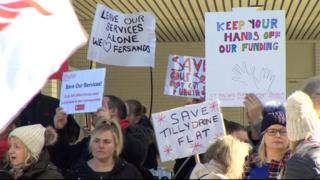 Aberdeen's council tax is to increase by 4.5%.
Up to 200 posts could go as part of more than £40m of cuts that were approved following a four-hour meeting on Tuesday afternoon.
However community centre, libraries, school crossing patrollers and public toilets escaped threatened cutbacks.
The Conservative and Labour administration's proposals were backed by 23 votes to 19 over an SNP amendment, with three abstentions.
The council tax increase will see a Band D bill rise by £57.03 to £1,324.33.
Meanwhile, council tax in Orkney will rise by 4.79% - a £53 rise for a Band D property, to £1,153.
Public protest
A large protest at the potential cutbacks to services was held outside Aberdeen City Council ahead of the meeting.
Council co-leader Douglas Lumsden proposed the council tax rise of 4.5%, lower than the maximum allowable 4.79%.
However, the SNP proposed a council tax rise of 3%.
Mr Lumsden said community centres and school crossing patrollers would be safe. Cuts to libraries and public toilets were also avoided.
He committed to funding the redevelopment of historic Union Terrace Gardens (UTG).
The SNP proposed £3m of UTG improvements, rather than the full £25m renovation.
An annual £30 charge for brown bin collections is being introduced.
The council had warned in December that services and jobs could be at risk.
Ferry fare increase
In Orkney, as well as the 4.79% council tax increase, charges for most council services will increase by 3%.
The budget setting meeting had been postponed from the end of last month awaiting confirmation on funding from the Scottish government for internal ferry services.
It was confirmed the council would receive £5.3m, and councillors voted to increase ferry fares by 3%.
The Scottish government recently agreed to increase the amount of money given to councils across the country.