Aberdeen FC wins new Kingsford stadium judicial review ruling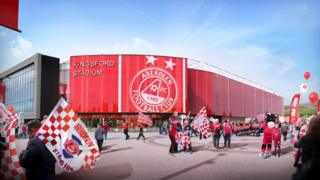 Aberdeen FC's plans for a new £50m stadium have been given a legal go-ahead.
The 20,000-seater development, proposed for Kingsford, near Westhill, is to replace Pittodrie.
However campaigners claimed the site was an incursion into green belt land, and alternatives were available.
The No Kingsford Stadium group raised a judicial review into the planning process. Lord Tyre refused the petition.
The action brought by No Kingsford Stadium was contested by the city council. No Kingsford said it would now consider its options.
The judge ruled: "In my opinion the petitioner has not identified an error of law in the approach of the council that would entitle this court to interfere with its decision to grant planning permission for the proposed development."
'Meet aspirations'
Aberdeen FC chairman Stewart Milne said: "The outcome of the judicial review is welcome news for the club, the council and the wider region.
"Following today's decision, we will reach out to the whole community, even those who have objected to the plans, so that we can work positively with them to deliver a community sports hub that meets their aspirations, best-in-class football training facilities and, ultimately, a stadium that the whole region can be proud of."
Club manager Derek McInnes also welcomed the news.
An Aberdeen City Council spokesman said: "We note the outcome of the judicial review and welcome the court's ruling that a robust planning process was followed in determining the application."
No Kingsford Stadium expressed disappointment at the outcome of the judicial review.
Next steps
The group said in a statement: "We will now take time to consider matters with our legal team before deciding on (the) next best steps.
"Meantime we take this opportunity to thank our many supporters, from across the community, who have given their time and financial backing to the No Kingsford Stadium campaign.
It could still ultimately go to the Supreme Court.
The plans were put on hold in 2017 but the council approved them in January last year.
The club said the facilities are vital to its future.
Construction began in July last year.