New Aberdeen FC stadium review gets under way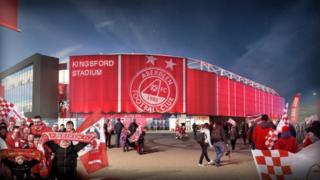 A judicial review into Aberdeen FC's plans for a new stadium is under way at the Court of Session in Edinburgh.
The £50m 20,000-seater development, proposed for Kingsford, near Westhill, would see the club move from Pittodrie.
But campaigners claim the site is an incursion into green belt land, and alternatives are available.
Plans were put on hold in 2017 but the council approved them last January. The hearing is expected to last three days, with a judgement given later.
The club has said the facilities are vital to its future, and construction began in July last year.
The action brought by the No Kingsford Stadium group is being contested by the city council.
Ailsa Wilson QC, for the campaign group, said: "One of the factual issues that runs through this case is the availability of an alternative site for the proposed stadium and training facilities."
Before the hearing, the campaigners said in a statement: "In reaching this important stage in proceedings, we have demonstrated that communities can challenge decisions which they believe are flawed."
The Kingsford project director Raymond Edgar said: "The hearing is an unwelcome distraction which is costing the club and the council and therefore the taxpayer, but we are hopeful of securing the right outcome."