Moray Open University home graduation student hopes to inspire others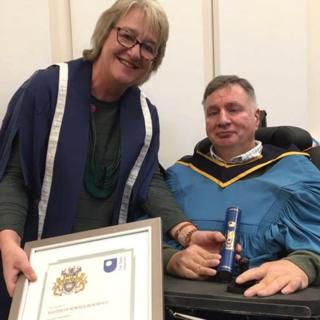 A student who has cerebral palsy hopes to "inspire others" after graduating at home in Moray.
Iain Stephen, who is in his 50s, is a wheelchair user who had an accident a few years ago which compounded his disability.
He has now been awarded his MSc in Science from the Open University.
Mr Stephen was unable to attend a degree ceremony for mobility reasons, so received his honour at his supported accommodation in Elgin.
He had already attained various qualifications, and is interested in pursuing his studies to PhD level.
'Like a challenge'
Mr Stephen said: "It's a huge honour for me to get this award. I hope it will inspire others who are maybe not so confident.
"Studying kept me going while in hospital and I've always wanted to study.
"With luck I'd like to do a PhD in the future - I like a challenge."
The Open University praised Mr Stephen's "very strong support network" and said he was an inspiration.