Men jailed for failed Shetland speedboat drugs plot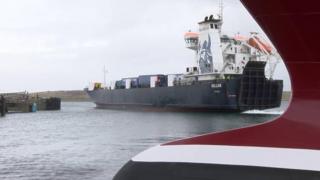 Two men have been jailed after a plot to smuggle drugs worth almost £30,000 into Shetland went wrong.
Mitchell Cross, 26, took the cannabis on a boat from Aberdeen, with Alasdair Kelly, 28, waiting in a wetsuit on a speedboat in Lerwick harbour.
The bag of drugs and an inflatable fishing buoy was put over the side, they were picked up by Kelly and taken to a dock, but the boat drifted away.
Cross was jailed for four years, and Kelly for two years and four months.
Lerwick Sheriff Court heard the incident happened in December 2016.
'Only just failed'
Procurator fiscal Duncan Mackenzie said the plot was a "sophisticated and carefully planned endeavour which only just failed".
The court heard the Cross was the ringleader in the operation, with close friend Kelly helping out.
Cross booked a one-way flight to Aberdeen for the next day. However he aroused suspicion by getting a taxi in Lerwick and asking the driver to take him to buy two inflatable fishing buoys before heading to the south mainland.
When Cross arrived in Aberdeen with an empty hold-all bag following the flight, he phoned NorthLink to book himself on the northbound freight boat that night.
He headed north with a now full hold-all which Mr Mackenzie said contained the cannabis.
The boat arrived in Lerwick with Kelly in the harbour in speedboat to receive the bag.
The speedboat later drifted from his Hays Dock stop-off point into the sea, although Kelly had managed to retrieve the bag.
The police were alerted when someone spotted Kelly "dripping wet".
Tommy Allan, defending Cross, said his client had "accepted in full" his involvement in the dealing.
Kelly's defence agent Gregor Kelly said that his client was more of a "cog in the wheel".
Sheriff Ian Cruickshank said given suspicious money activity in the various bank accounts, it was likely that the operation was only the tip of the supplying.
The sheriff said the plot was a "calculated and tenacious venture" symptomatic of a "commercial operation for profit".
'Botched operation'
After the case, Det Sgt Bruce Peebles of Police Scotland said: "Both men played significant parts in this elaborate, though ultimately botched drug sourcing and dealing operation.
"Painstaking inquiries were carried out involving witnesses, CCTV, travel agencies, local businesses, forensic DNA examination, mobile telephony and national financial institutions, with all of the evidence pointing to the guilt of both the accused in this clearly planned and pre-meditated operation.
"As a result, more than £28,000 worth of Class B drugs was recovered and prevented from being supplied within the local Shetland community."
He added: "This inquiry demonstrated that as well as those based in the mainland of Britain, locally based criminals are also responsible for bringing drugs, on this occasion on a very large scale, into Shetland.
"This will not be tolerated."