University of Aberdeen 'to double Scottish disadvantaged student access'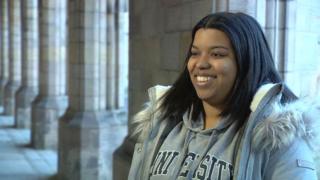 The University of Aberdeen has vowed to double the number of full-time Scottish degree students it recruits from disadvantaged areas.
The university wants 10% of its intake of Scottish students to be from areas the included in the Scottish Index of Multiple Deprivation (SIMD20) from September next year.
In recent years the figure has been between 4% and 5%.
Principal Prof George Boyne said the university had to be "open to all".
The university will continue to offer free accommodation for the first year of study for students from SIMD20 areas.
Prof Boyne - who became principal in August - said: "This university was founded on the guiding principle of being open to all.
"It is for this reason that we have set this ambitious new target to recruit 10% of our Scottish students from SIMD20 areas from September."
'Equal chance'
Higher Education Minister Richard Lochhead said: "I welcome the University of Aberdeen's commitment to recruit more students from disadvantaged backgrounds to this impressive institution.
"The Scottish government wants every young person in Scotland to have an equal chance of success, no matter their background or circumstance.
"It is our aim that, by 2030, 20% of students entering university will be from Scotland's most deprived backgrounds."
---
Analysis by BBC Scotland education correspondent Jamie McIvor
The University of Aberdeen knows it has to act to meet widening access targets and act fast.
To meet Scottish government targets by 2030, a fifth of its students will need to come from disadvantaged postcode areas.
As a general rule, the older institutions - so-called ancient universities - and those which became universities in the 1960s have the most to do, while some of the former polytechnics have already met the targets.
But there are two issues to consider.
Some within academia question whether simply using an applicant's postcode is the best measure of whether a university is doing enough to help disadvantaged young people.
The other question concerns what may be seen as the university's catchment area.
While universities attract students from all over the world, a large number of the students at most of them come from relatively nearby - almost like commuters.
A significant proportion of Aberdeen's students come from the north east and parts of northern Scotland which have good links with the city.
There are relatively few of the most disadvantaged postcode areas in this patch but there will be young people in almost every community who have faced personal disadvantage.
For that reason alone, Aberdeen may find it harder to meet the 2030 target than some others.
---
University of Aberdeen fourth year psychology student Marta Lopes went to the city's Torry Academy, which is regarded as being among the more deprived areas, and also had to take some classes at another school due to the subjects that were available.
She told BBC Scotland of the university's 10% pledge: "I think it's a good step forward.
"Getting into university was a bit challenging, a bit of a journey - when I was applying, part of me wasn't sure I'd get in, to be honest.
"I didn't know of the widening access initiatives - I think that's still a big problem."
She said people "subconsciously" still think students need to come from more advantaged backgrounds, but that was not the case any more.
Of her university experience so far, she added: "It's been stressful, but I have definitely enjoyed it."