Orkney young entrepreneurs to set up "grown-up" business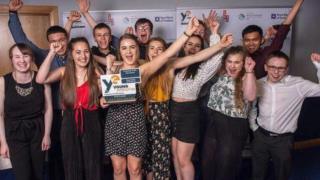 An award winning team of young entrepreneurs from Orkney is weighing up going into business as a "grown-up" company.
Estrela won four prizes - including RBS company of the year - at the Young Enterprise Scotland competition, and the Access award at the UK finals.
It produced a range of lamps with an Orkney theme.
Now one member says they are in discussions with Scottish attractions about expanding their range.
Isla Leslie was named Young Entrepreneur of the Year at the Summit 2018 awards in Glasgow last week.
She told the BBC's Good Morning Scotland radio programme: "The twelve of us have separated - some of us are at university, some of us are in full time employment.
"So we've stopped the business for now, but we have prospects for sales on a much larger scale. We've been in negotiations with big Scottish monuments and landmarks, and businesses in Orkney too.
"And we've still got demand. Every day people are messaging us, asking for lamps, so we've got this massive demand."
She said the group had been surprised by the number of orders they got from countries around the world, where there is an Orkney diaspora.
Isla said too often young people find themselves in part-time jobs, where their skills and contributions aren't valued.
"What Estrela was really about was being passionate about what we were doing, and investing in the team - showcasing their talents, giving them responsibilities - and that's why it was so successful."