Tough economic conditions 'may be ending' in Aberdeen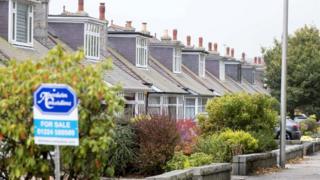 The tough economic conditions Aberdeen has seen in recent years may be coming to an end, a property law firm has said.
Aberdein Considine indicated a recovery in the property market could be attributed to an improving economy.
Property sales in Aberdeen have increased for the first time in nearly two years, with a rise of 7.9%.
Prices in Aberdeen also appear to have stabilised, with the average home costing £199,834.
Jacqueline Law, managing partner at Aberdein Considine, welcomed the findings.
She said: "The upturn in Aberdeen is great news after a prolonged difficult period, and is hopefully an indicator that we are beginning to see the north east emerge from one of its most testing downturns."
Stable signs
The stabilisation of property prices in Aberdeen suggests demand has also steadied.
Ms Law acknowledged that uncertainty around Brexit could have adverse effects on the property market, but she also recognised the potential for Aberdeen's local economy to mitigate some of the impact.
She added: "We can't ignore the ongoing turbulence in relation to Brexit, as well as the corresponding uncertainty this is causing to both businesses and homeowners.
"That said, the return of a stable and prosperous oil and gas industry should hopefully provide some insulation against the challenges the country might face over the next few months and years."
In October it was predicted that the Aberdeen property market was set for an "oil industry jobs boom".
Bob Fraser, a senior property partner at Aberdein Considine, has also attributed the current improvements seen in the property market to the oil and gas industry.
Speaking to BBC Scotland, he said: "I think that there's stabilisation in the oil and gas industry to an extent, and we're beginning to see that feed into increased confidence in property consumers.
"I think it is primarily driven by that because it is such a major factor in the local economy."
Brexit uncertainty
Mr Fraser believes that there will not be a dramatic change in the property market, but instead a gradual increase carrying on into next year.
However, he too recognises the uncertainty around the market as Brexit approaches.
He said: "I would say that if it were not for the uncertainty over Brexit we would probably be seeing a much clearer picture in the local economy, so to a certain extent, the improvement in the Aberdeen area is being veiled by a slight uncertainty over Brexit."
But for Aberdeen, Mr Fraser predicted that growth in the local economy would have a far greater influence on the health of the housing market than the state of the national economy.
He added: "We have seen many instances in Aberdeen where the local economy has be diametrically opposite to the UK economy."