Abbeyton Bridge to be demolished over Christmas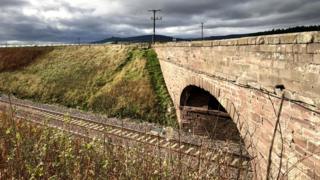 A deteriorating bridge over the East Coast Main Line in Aberdeenshire is to be demolished over Christmas.
The Abbeyton road-over-rail bridge, on the B966 just north of Fordoun, was shut in July.
Inspections found serious failings in the 170-year-old structure.
Aberdeenshire Council said a specialist contractor would work alongside council engineers to dismantle the bridge over Christmas Day and Boxing Day, starting at 22:00 on Christmas Eve.
The local authority previously warned an emergency closure could cost £1m to £3m a day.
The council said the cost of the planned demolition was expected to be about £1m.
No trains
Aberdeenshire Council's bridges manager Donald Macpherson said: "The only way to remove the risk posed by this bridge to the railway line below is to remove the bridge itself, as it cannot be repaired.
"Given the potential financial implications an unplanned closure of the line would have, this has to take place on Christmas Day and Boxing Day, when no trains are scheduled to run.
"If all goes well the work will be completed by 5am on Thursday, December 27, in time for the railway returning to normal service."
The cost of any proposed replacement bridge is likely to run into millions of pounds, and take several years to plan.