Orkney's film pioneer to be honoured in Kirkwall
By Huw Williams
BBC Scotland reporter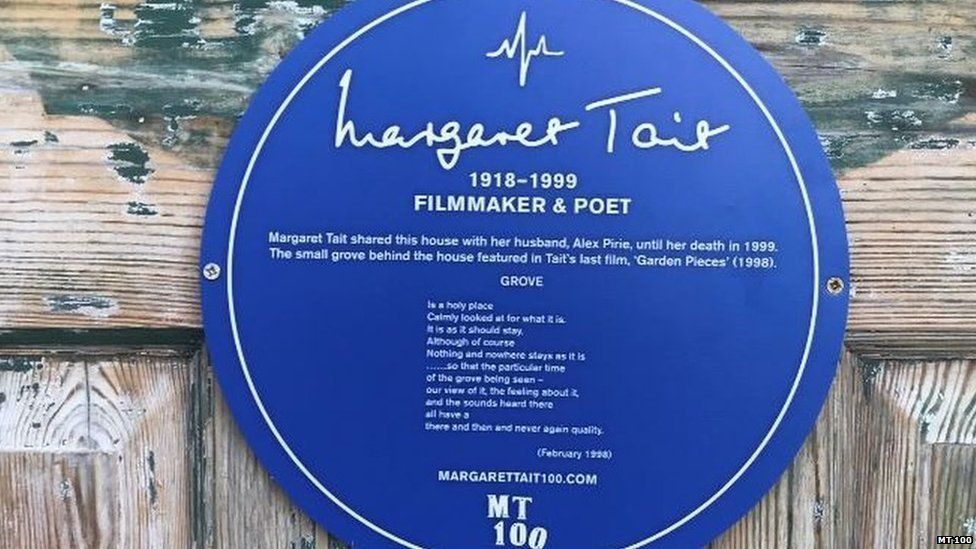 Temporary plaques have been placed around Scotland at places linked to the Orcadian poet and film maker Margaret Tait.
Now plans have been announced to commemorate her permanently with a memorial in St Magnus Cathedral in Kirkwall.
She was the first Scots woman to direct a full-length feature film, "Blue Black Permanent".
A re-mastered version is being shown in cinemas to mark her centenary.
And it will be released it on Blueray and DVD next spring, also including some of her short "film poems" as a bonus feature.
Margaret Tait's nephew, the photographer and writer Charles Tait, told BBC Radio Orkney : "We've got all these very worthy men with plaques in the cathedral.
"And I thought Margaret should be up there. I don't know what Margaret would have thought of it.
"But I think, from the point of view of equality and all the things that she's done, she should be there."
The family say permission has now been secured for the memorial to Margaret Tait to be installed in St Magnus Cathedral.
They hope that will be done within the next 12 months - her centenary year. That would make her the first woman honoured in an area of the cathedral unofficially known as "Poet's Corner".
Film maker and curator Peter Todd, who was a friend of Margaret Tait, said he hoped the re-release of her feature film would mean new audiences got the chance to discover her work.
Plans are underway to make some of the temporary plaques, erected in places like Rose Street in Edinburgh where Tait lived and had a studio in the 1950s, into official memorials - a move some on social media have dubbed "blue plaque permanent".
Related Internet Links
The BBC is not responsible for the content of external sites.