Ancient repairs revealed on Orkney's oldest wooden bowl
By Steven McKenzie
BBC Scotland Highlands and Islands reporter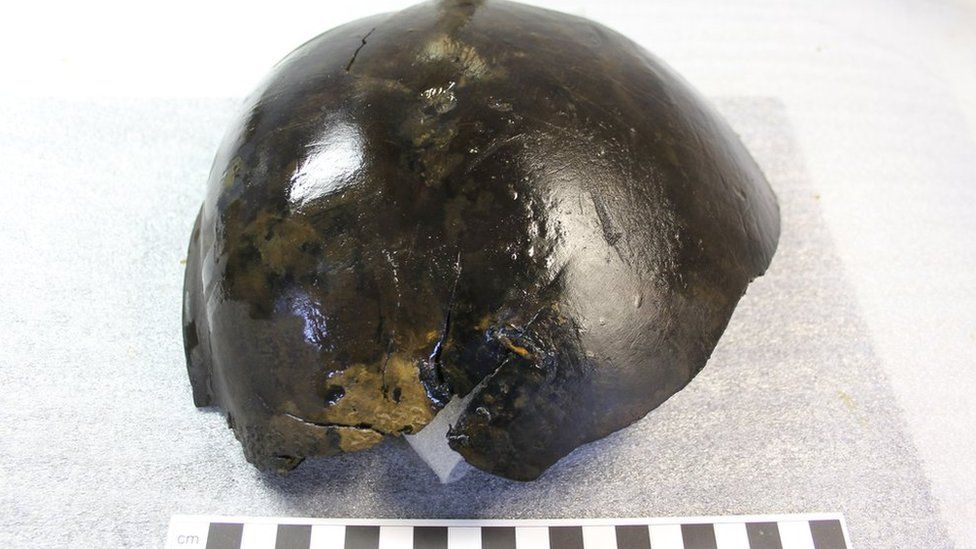 Conservation work on an Iron Age bowl found in Orkney has revealed careful 2,000-year-old repairs to it.
The bowl, carved from an alder tree log, was recovered from a well beneath the floor of a broch at The Cairns, South Ronaldsay, in July.
Painstaking conservation work of the mud-covered, waterlogged bowl followed.
Archaeologists said this work had uncovered a crack in the bowl repaired with the use of strips of bronze wood rivets and an ancient staple.
They said the use of a staple and rivets represented a "very artful ancient repair, or repairs made to the vessel to prolong its life".
A team of archaeologists from the University of the Highlands and Islands Archaeology Institute, based in Orkney, have been making excavations at The Cairns.
Specialist conservators at AOC Archaeology in Edinburgh removed the bowl from the block of soil that had helped to keep it preserved for 2,000 years.
It is the oldest wooden bowl to be found in Orkney so far.
Martin Carruthers, a lecturer in archaeology at the UHI Archaeology Institute and director of The Cairns project, said the discovery of the bowl had led archaeologists to reassess the use of wood in Orkney.
He said: "After first encountering the bowl this summer, we had wondered if wooden bowls, and other objects made from wood, might actually have been much more common than we would have previously expected for the mostly treeless environment of Iron Age Orkney.
"Perhaps archaeologists have been guilty of overplaying the scarcity of wood in Scotland's Northern Isles.
"Maybe there were almost as many wooden vessels in circulation as there were ceramic ones, fragments of which we recover in great numbers from sites like The Cairns."
Dr Anne Crone, a specialist in ancient wooden artefacts with AOC Archaeology, said the care taken in repairing the bowl suggested it had been a valued object.
The bowl was kept so well preserved because of the basal silts it had been "sealed" in down inside the well.
This anaerobic or anoxic state, meaning without oxygen, meant micro-bacteria did not have an opportunity to eat away at the wood.
Similar conditions were behind the preservation of a wooden bowl found this summer at the Black Loch of Myrton prehistoric loch village, in Dumfries and Galloway.
The Cairns archaeological site in Orkney has provided other insights into Iron Age life in the islands.
A human jaw with two teeth was discovered centrally placed in a large, carved whalebone vertebra within the ruins of the broch two years ago.
Analysis, including radiocarbon dates, of the find showed that the man died when he was 50 or older.
His diet also appeared to have been rich in fish.