Shetland kirk closures: Yell congregation could take over church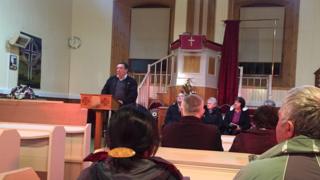 A congregation in Shetland could be set to purchase a church due for closure.
At a public meeting in Yell, in the north of Shetland, Church of Scotland elders said the building could have its own identity.
Elders from the congregation had been unable to attend a Presbytery meeting on 13 October when kirk closures were discussed.
Two-thirds of Shetland Church of Scotland kirks are due to close over the next three years.
'Matter of time'
The meeting was led by Will John Anderson, a Church elder at St Magnus.
He was optimistic when discussing the future of the building, saying that the congregation's options were "clear", and that he was confident they could buy it.
"We will be responsible for all our own ministry, insurance, and upkeep of the building, which we've done for years anyway," Mr Anderson said.
He said the church would have its "own identity" after the purchase and that an announcement on its future would only be "a matter of time".
'Decision unexpected'
Dan Thompson, another Church elder, explained his unhappiness at the Church of Scotland's decision, saying none of their congregation was able to attend a crucial meeting.
"We weren't aware this meeting was going to decide on the closure of the churches," said Mr Thompson.
He also said that Mr Anderson had been working at the time of the meeting. "We weren't aware the decision was going to be made that day," he added.
Community Council chairman Laurence Odie said the decision to close the St Magnus Kirk was unimaginable, especially given the fact the church is surrounded by a graveyard.
However, he said he would offer his support to the community as they progressed with their plans to purchase the church.
'Full support'
Reverend Dr Frances Henderson, transition minister in Shetland, said she supported the community in their desire to take over the church.
She said that, if the congregation was able to run the church through purchase or lease, they would have her "full support".
The minister said this would represent "a very good use of the church" and hoped an agreement could be worked out with the General Trustees of the Church of Scotland.
Rev Dr Henderson has previously stated that the proposed single parish on Shetland could be a model for other parishes across Scotland, and that Shetland was "leading the way".