New archaeological dig at Aden Country Park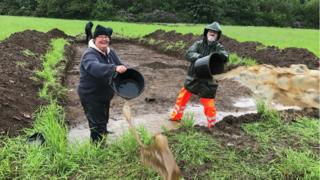 The public have been invited to help with an archaeological dig in an area where Bronze Age and medieval remains have been found before.
Three post-holes, parts of a Bronze Age structure, were uncovered at Mintlaw's Aden Country Park last year.
The new dig taking place between 5 and 15 November could reveal more of the building.
Archaeologists involved are also mapping where finds, including a medieval tower house, have been made.
Ali Cameron, of Cameron Archaeology, said the discovery of the post-holes was "very intriguing".
She said: "We are going back to uncover the rest of the structure.
"There will be digging, survey, work with finds, and opportunities for schools and groups to visit the site and get involved in the work. We are keen to get as many people involved as possible."
Bruce Mann, archaeologist for Aberdeenshire, Moray, Angus and Aberdeen, said "This is another fantastic opportunity for people of all ages to uncover a part of Aberdeenshire's rich heritage.
"The last time we dug in Aden we found a long-lost medieval tower house. Who knows what will be found this time."