Man died on fishing boat in Fraserburgh harbour due to tank gas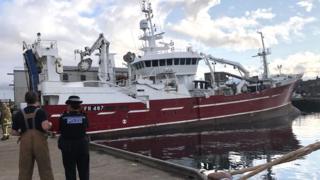 A man died on a fishing trawler in Fraserburgh harbour after being overcome by gas which starved him of oxygen, a report has revealed.
William Ironside, 52, was one of several men who fell ill on the Sunbeam in August.
The Marine Accident Investigation Branch (MAIB) said it was a "tragic accident" which nearly resulted in multiple fatalities.
It recommended risk assessments for work in refrigerated saltwater tanks.
The MAIB investigation report has said the level of oxygen at the bottom of the tank was less than 6% - the normal level should have been 20.9% - and further tests showed the presence of a refrigerant gas.
Mr Ironside was working in the tank which is used for storing catch when he collapsed.
The MAIB said it was likely that the gas leaked through seawater evaporators which had failed.
It is a toxic, tasteless and mostly odourless gas. If it is deeply inhaled, it can cut off vital oxygen to blood cells and lungs.
'Valued colleague'
Other men who tried to rescue Mr Ironside became dizzy, confused and short of breath.
The MAIB said they did not appreciate the levels of risk they were taking.
The recommendations include better ventilation and the availability of breathing apparatus for rescuers.
Sunbeam Fishing Ltd said in a statement: "Our thoughts remain with the family of our valued colleague and friend, William Ironside, who was tragically lost on 14 August.
"We are fully co-operating and assisting the MAIB throughout the inquiry process, however, as this investigation is ongoing it would not be appropriate for us to comment further at this time."