Shetland church closures: Names of kirks revealed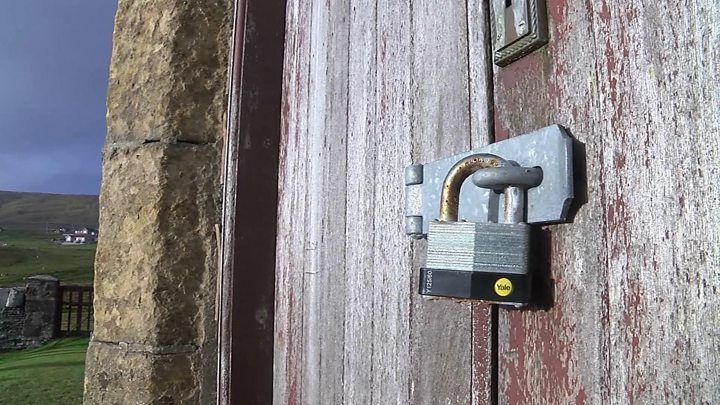 The Church of Scotland has revealed the 20 Shetland kirks it will close.
They include churches on some of the most remote outer islands such as Fair Isle, Foula and Out Skerries.
The church, which has a rising national deficit, said closing the buildings would ensure a "more sustainable future" for Shetland's dwindling congregations.
Local congregations will have the option to appeal against the closure of their church.
The full list of earmarked closures is:
Sandness Church
Foula
Tingwall
Bigton St Ninians
Dunrossness
Fair Isle
Fetlar
St Magnus, Yell
Hillswick
Sullom North Mavine
Voe Parish Church
Sand - Sandsting
Weisdale
Cunningsburgh
Quarff
Gulberwick
Bressay
Nesting
Whalsay Church
Skerries
'Cannot keep going'
Thelma Robertson, who attends services at various Church of Scotland buildings, said she felt "cut adrift".
Having attended services from a young age in the Tingwall Parish, which includes Weisdale, Tingwall, and Scalloway churches, Thelma expressed sadness at her local church closing.
She said: "With our local church, we just cannot possibly keep going with the amount of money that's coming in."
She said the closure was "a terrible decision" but one that was, ultimately, necessary since services were attended by around 20 people.
Local volunteers
Services in the Out Skerries, a small island community with around 30 residents east of mainland Shetland, have for some time mostly been led by local volunteers due to a lack of ministers.
Marina Tate, who has attended services at Skerries her whole life, said the announcement of the closure "confirmed what we were suspecting."
Marina believes the Church of Scotland's departure "won't change much" in Skerries - but she has expressed some concern about the congregation taking on all of the running costs.
She added the assessor minister had advised trustees would come up from the Kirk in Edinburgh to offer guidance.
Hillswick - Shetland's oldest kirk
Built in 1733
Can seat up to 600
Hillswick has a population of around 700
Eight-mile drive required for nearest kirk remaining open
Due for closure over the next three years
Shetland 'leading the way'
The Church of Scotland was not going to be able to fill vacant positions across the 31 kirks, according to newly-installed transition minister, the Reverend Dr Frances Henderson.
To resolve this, a new presbytery plan proposes merging 13 local parishes into one, with three parish ministers covering Shetland in addition to four ministry development staff, including a newly-appointed youth worker.
Dr Henderson said, "We are going to be travelling a lot but we will go where the need is. With funerals, for example, when the call comes in we will work out who is available, where they are, and send them out."
She said the church could fulfil its mission on Shetland by bringing congregations closer together as a result of the closures.
Parishes across Scotland may have to adapt in a similar way over the next three years.
"Shetland is leading the way," Dr Henderson added.
Church crisis
The Reverend Ian Murray, Shetland Assessor Minister for the Church of Scotland, said the closures were the result of the church's financial challenges "nationally and locally".
He said there were significant difficulties in recruiting ministers for posts in Shetland and across the country.
"We are facing a crisis in the church, and we've got to trim back," said Mr Murray.
He said the kirk needed to look towards "mission and outreach" as opposed to spending further money in the maintenance of buildings.
Mr Murray stated that they would be encouraging communities, such as Out Skerries, "to lease the building" - claiming that in many ways some congregations were already "self-sufficient".