Shetland schoolboy Finn Regan, 13, signs for St Johnstone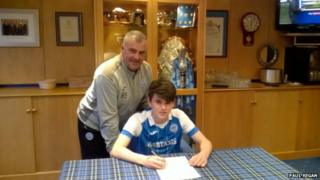 A 13-year-old boy from Shetland faces a 700-mile round trip to realise his football dream after signing for St Johnstone.
Striker Finn Regan is flying down for Friday training and weekend games in Perth all the way from his home just 200 miles off the Norwegian coast.
The Anderson High School pupil said he is "very happy" and hopes to become a professional.
His parents said they were happy to make the time and cost commitments.
Finn explained: "I was away on a football camp and they asked me to come to a tournament and I scored a winner.
"I am feeling very happy to be signing for St Johnstone, they're a good team. It's a high standard of football.
"They expect me to score."
Of the travel, he said: "There is a disadvantage, they are training three days a week, I am only going down sometimes for training on a Friday and a game on the Sunday."
Sponsor search
Dad Paul, himself a youth coach, said: "He started playing very young and progressed from there. He's always been a striker.
"It is expensive. It's a big commitment, we pay for all the travel, but it's a commitment we're more than happy to make.
"We'll get him down as often as possible. It just means careful booking.
"Everyone has been very encouraging. He's got every chance."
Alistair Stevenson, head of youth development at St Johnstone, said: "We're delighted to have Finn join the club. He is an exciting young player with the potential to enjoy a bright future in the game.
"All of the coaches are looking forward to watching him develop at St Johnstone, playing alongside our talented academy players.
"We're still working on the logistics around his travel arrangements. He has family connections here so accommodation is not a problem but we do have to look at the best solution regarding travel to and from Shetland.
"We are looking into the possibility of securing a sponsor to help with some of these travel costs."