First of new major trauma centres opens in Aberdeen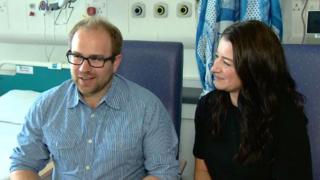 A new major trauma centre (MTC) has opened in Aberdeen.
It is the first of a network of sites - Dundee, Glasgow and Edinburgh are the others - to become operational.
The centres aim to give patients - including road accident victims - the best chance of survival and recovery wherever they live, and it is hoped they could help save dozens of lives every year.
Health Secretary Jeane Freeman said it was an "important day".
The facility is based at Aberdeen Royal Infirmary.
Ms Freeman said: "The new centre will help our most severely injured patients and ensure patients have the best chance of a speedy recovery from their injuries.
"On top of the £15.2m we have invested to make the network a reality, there will be a gradual increase in funding over five years with an anticipated budget of £27m by 2021/22."
Andy Irvine - who was hit by a car in 2015 and suffered a brain injury - was at the opening.
He said of the new trauma centres: "One of the major benefits I see is the early co-ordination of rehab, that is so vital."
'Forever indebted'
His partner Cheryl Mainland explained: "It was traumatic, it was a very difficult time. He was in a coma for a couple of weeks.
"I think one of the things we felt maybe didn't happen quite soon enough was the neuropsychological understanding and support.
"I think that's maybe where the trauma network comes into its own.
"Don't get us wrong, I am forever indebted to what the NHS were able to do for us, we feel so lucky to have that facility.
"But things can always be done a bit better and I feel they have really hit the nail on the head with this."
The second MTC in Dundee is expected to open on 19 November.
The network was announced in 2014 and was initially planned to open in 2016.
First Minister Nicola Sturgeon said at the time that the the Scottish government was right to take its time developing the network of trauma centres.
Ms Sturgeon spoke of the "scale and complexity" of the changes.