Orkney gets new flood warning system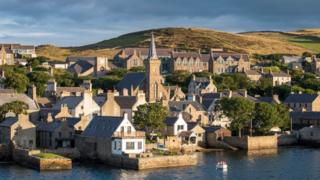 A new early warning system for coastal flooding is being launched in Orkney.
It will provide predictions of flood risks at 11 sites 48 hours in advance.
The model has been set up by the Scottish Environment Protection Agency (Sepa) to increase resilience to flooding along Scotland's coast.
It is in response to rising sea levels which are expected to increase the frequency of flood events. Sepa is planning similar systems in Aberdeenshire and Angus.
It has been estimated that 169,000 homes will be at risk between now and 2080 because of climate change.
Rising Sea Levels
Vincent Fitzsimons, Head of Hydrology and Flooding Services at Sepa, said: "Scotland needs to be prepared more powerfully for weather extremes and rising sea levels, which as we know, is only ever-increasing as a result of climate change.
"As sea levels rise all around the UK coastline, it brings with it the risk of coastal erosion and more frequent flooding for Scotland's exposed coastal communities. The Orkney Islands are one of three regions particularly at risk from the impact of coastal flooding and Sepa has spent two years developing the new coastal warning scheme in close partnership with Orkney Island Council to provide a state of the art system which will deliver accurate, real time warnings to those who need it most."
The flood warnings will cover Kirkwall, Scapa, Longhope and Hoy, Stromness, Burry and Ayre of Cara, St Mary's and Graemeshall, St Margaret's Hope, Churchill Barriers, Westray, Sanday and Stronsay.
Councillor Graham Sinclair from Orkney Islands Council added: "Sepa's Coastal Flood Warning Scheme offers our residents, business and road user's valuable information in the lead up to bad weather. The additional and advance notification gives everyone extra time to take necessary precautions in terms of any potential risk to property, or in terms of planning their journeys.
"In periods of severe weather the Sepa flood warnings will come in advance of the Council's own warnings about areas which could be impacted by coastal flooding, including potential Churchill Barrier closures.
"We welcome the introduction of this new warning system and hope that the greater notice it provides will give locals valuable extra time to plan in periods of severe weather. I'd urge everyone in Orkney to consider the warnings they should be signing up for."