Missed council tax Conservative councillor suspended by party for a year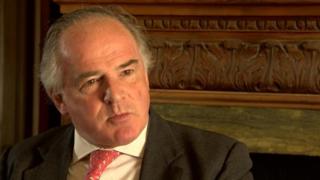 An Aberdeenshire councillor has been suspended by the Conservative Party for a year after admitting he deliberately missed council tax payments.
Councillor Sebastian Leslie was subject to a disciplinary investigation by the party.
Mr Leslie - who owns and lives in a castle in his West Garioch constituency - was understood to be about £2,500 in arrears.
It is understood his case will be reviewed in June 2019.
He said in May he was staging a "go-slow" as a protest.
He said he was trying to highlight what he described as corruption in the Scottish banking system.
A Conservative party spokesman said: "Councillor Leslie has been suspended from the Scottish Conservative Party. We will not be making any further comment."
Mr Leslie has been approached for comment.
He is the father of Game of Thrones star Rose Leslie, who played Ygritte in the series.