Aberdeen baby ashes compensation tops £360,000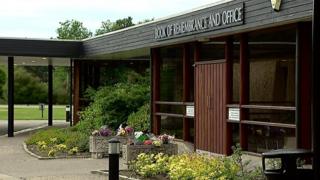 Compensation paid out over the baby ashes scandal at Hazlehead Crematorium in Aberdeen has reached more than £360,000, BBC Scotland has learned.
Baby and adult ashes were mixed together at Hazlehead and given back to relatives of the adult.
The parents of the infants were told there were no ashes.
Replying to a Freedom of Information request, Aberdeen City Council said 140 claims totalling £361,000 had been settled, and 13 had been rejected.
The process is still ongoing.
The £361,000 figure was up until 15 August. The figure was £101,000 in October last year.
Release report
It was revealed in February last year that 205 claims were lodged.
BBC Scotland revealed in 2013 that no ashes had been offered to the families of infants cremated in Aberdeen over a five-year period.
A report into the baby ashes scandal included a claim staff misled the senior judge who was investigating procedures there.
Aberdeen City Council was ordered by the information commissioner to release the secret report after a request from BBC Scotland.
The council said Hazlehead Crematorium operations had been transformed since the scandal.