Oil firm criticised for using trainees to cover shifts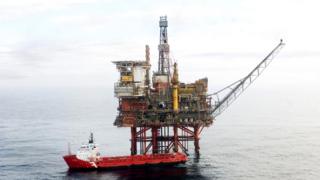 An oil company has been criticised for using trainees and apprentices to cover shifts on a North Sea platform.
The Health and Safety Executive (HSE) said Apache was "significantly failing" to meet obligations on the Beryl Bravo platform.
An inspection found trainees and apprentices, who were "not deemed fully competent", had been used for cover.
Apache, which has been served with an improvement notice, said there had been "unforeseen circumstances".
The notice states that in November last year it had been agreed that a set number of production technicians and control room operators should cover shifts on the platform.
'Safe operation'
The HSE said the use of trainees and apprentices on these shifts was not an isolated situation, and that it had been happening since early this year.
It said a reduction in production technicians had the "potential to increase fatigue and a decreased capacity to carry out critical work scopes which affect health and safety".
Apache North Sea confirmed it had received an improvement notice from the HSE.
In a statement, the company said: "The improvement notice relates to a period of reduced manning arrangements due to unforeseen circumstances.
"Where this occurred activities were proactively reduced to manage workload, thereby ensuring completion of safety-critical activities and the safe operation of the asset.
"Further enhancements are being implemented and Apache will continue to communicate our progress to the HSE until the matter has been resolved."
The Beryl oil field is located 180 miles (290km) north north-east of Aberdeen.