Pineapples found washed up on Shetland beaches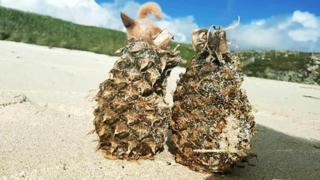 Pineapples washed up on beaches in Shetland could be from containers lost overboard in the Atlantic last year.
Two containers filled with pineapples and bananas were lost from the cargo ship Lombok Strait last October.
Experts said at the time they believed beaches in Shetland and the Western Isles could be the most likely destination for the cargo to wash up.
Ten months later, Shetland islanders started sharing photos of their pineapple finds.
It was reported at the time that the ship was used by fruit giant Del Monte.
Zoe Henry, who found pineapples at Meal Sand Beach in Burra, told the BBC Scotland news website: "I thought it was very strange - you would find them in a tropical island, not Shetland.
"I left them, they were a bit shrivelled up."
Another find at the weekend was photographed at Watsness.
The vessel crew had been unsure exactly where in the mid Atlantic the containers were lost.
Bad weather
A Coastguard spokeswoman said: "Just after 11:10 on 22 October 2017, a vessel contacted HM Coastguard to let us know that it had lost two 40ft containers with pineapples and bananas in it during bad weather.
"There was no specific location given, just the Atlantic. The vessel was heading for Dover.
"The duty counter-pollution and salvage officer was informed and the Receiver of Wreck was notified along with the various agencies whose waters the containers may have passed through."
The Lowestoft-based Centre for Environment, Fisheries and Aquaculture Science (Cefas) had appealed last year for reports of fruit washing up.
No-one at Cefas was available for comment on Monday due to the Bank Holiday.
The story of the containers being lost was known in Shetland, and was the focus of an act at the South Mainland Up Helly Aa (SMUHA) festival in March.
"The FisherMan from Del Monte say Yes" was about fishermen going to catch fish but they caught pineapples and bananas instead.
Squad member Angela Thomson said: "It's good to hear the pineapples have arrived on the beaches in Shetland."