Osprey stuck in fishing line saved after landing at rescue centre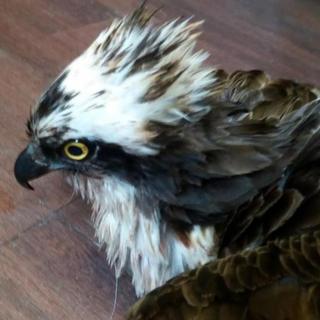 An osprey tangled in a fishing line has been rescued after being found in the grounds of an animal rescue centre in Aberdeenshire.
Staff at New Arc near Ellon initially mistook the injured bird for an empty paper feed bag - but soon discovered they had a new patient.
The fishing line was tangled round its neck and wing, and the end of the line went down its throat.
The line was successfully removed and the osprey is now recovering.
Keith Marley, of New Arc, said: "We quite often have people drop in with injured wildlife, but it's not too often that the wildlife itself decides to drop in.
"He was in a bad way and we soon had him back to the centre to check him over."
The osprey - which was given the name Ollie - was taken to vets, and X-rays showed the hook was directly above its heart.
An operation with a camera being inserted down the bird's throat and a gripper tool removed the hook.
The osprey is now back at New Arc.
Mr Marley said: "He is currently unable to balance and co-ordinate his movements very well.
"However he is showing signs of improvement every day. On first arrival he had to be tube fed but after a week he is now able to accept hand feeding and his medication at regular intervals throughout the day.
"Needless to say there is a long way to go."
'Touch and go'
He explained: "Thanks to the brilliant work done by BTO (British Trust for Ornithology) bird ringers we have pretty much Ollie's full background.
"We know he is 17 years old and was ringed here in the north east when still in the nest.
"After migrating and spending his first few years in Africa, he has returned annually to the north east to successfully raise chicks each year for the past nine years."
Mr Marley added: "Ollie is now a very old Osprey and it is still touch and go whether he can fully recover from the injuries he has sustained to enable him to be freed and continue on his annual migration back to Africa.
"Meanwhile he is receiving the best care possible and we are doing everything in our power to get him back to full health."