Crovie landslip work now 'well under way' says council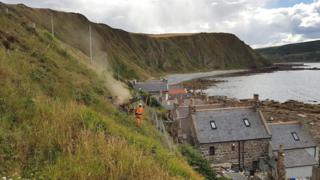 Work to tackle a landslip which has closed the only road into an Aberdeenshire village for almost a year is now said to be "well under way".
The road into Crovie has been closed to vehicles since last September.
Residents who feel they have effectively been "locked out" - it can still be accessed on foot - called for a swift resolution last month.
Aberdeenshire Council said soil nailing had begun, and mesh will then be installed.
The complete project is expected to take between eight and 10 weeks, with the road expected to reopen to traffic in mid-November.
Emergency access
The landslip work is costing hundreds of thousands of pounds.
A quad bike and trailer were provided from June to help with the transport of groceries, and luggage for those renting properties during the summer holidays.
Access for emergency vehicles was already agreed.
The work was needed as the road surface had deteriorated following Storm Frank in January 2016.