Orkney's white-tailed eagle chicks are spotted in flight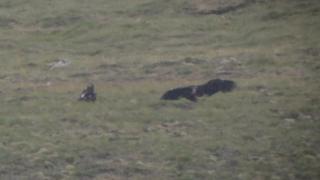 The first white-tailed eagle chicks to hatch in Orkney for 145 years have been seen flying.
The pair were spotted in the air by RSPB Scotland volunteers Katharine Stark and Janet Yeung.
The white-tailed eagle became extinct in the UK 100 years ago, and reintroduction programmes have been running since the 1970s.
The chicks hatched on Hoy in May. Their parents may have come from elsewhere in Scotland, or from Scandinavia.
Ms Stark said: "It was magnificent to see the eagles soaring through the sky, especially knowing how long it has been since the last time.
"We spoke to lots of locals and tourists throughout the day and everyone was thrilled.
"There has been a nervous excitement in the air since the chicks hatched but now we can all breathe a sigh of relief and celebrate."
High cliff
The successful hatching sees the birds back in Orkney for the first time since the 19th Century.
Ian McNab, events and communications officer for RSPB Scotland, said: "We were expecting them to stay in the nest for another week or two, as their first flight was from a precariously high cliff.
"However, both chicks are looking strong as they made their way up and beyond the Hamars.
"It's quite common for birds of prey to stay within the territory for a while after they have fledged, so hopefully we will be able to enjoy watching them for some time yet."