Inspectors may force closure of Aberdeenshire care home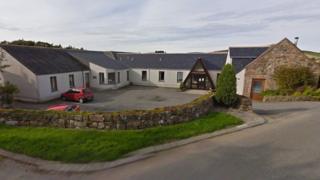 An Aberdeenshire care home may be forced to close after allegations its elderly residents have been put at risk.
BBC Scotland has learned that Muirhead care home near Alford faces being shut down by the Care Inspectorate following a spot inspection in July.
Residents were found not to be receiving adequate nutrition.
The home's directors said they would draw up an action plan to address any concerns which had been raised.
Police have also launched an investigation into the residential home.
The Care Inspectorate says it has identified significant concerns about care at the home, which currently looks after 35 residents.
The issues centre on staff recruitment and training but during an unannounced inspection last month inspectors also found residents were not getting nutritious meals.
'Simply unacceptable'
The inspectorate has applied to Aberdeen Sheriff Court to close the home.
It says it is not action it takes lightly or often - only in the most exceptional circumstances.
Teams from the Care Inspectorate and Aberdeenshire social care partnership were at the home to provide immediate support on Thursday.
A Care Inspectorate spokeswoman said: "Everyone is entitled to high quality care that reflects their needs and upholds their rights. Our most recent inspection found that the quality of care is simply unacceptable.
"We found people were not getting the care and support they need, with serious concerns about staff recruitment, including the number of staff, staff training, and experience.
'Serious incidents'
"We also identified serious concerns about food in the care home, and the way people should be supported to have well-balanced and nutritious meals. We found numerous hazards and found that very serious incidents had not been followed up correctly.
"The quality of care is so poor that we have applied to the sheriff court for an emergency cancellation of this care home's registration. We do not take this action lightly or often, but only in exceptional circumstances where there is no alternative to protecting the health, safety and wellbeing of residents."
However, relatives of some of the home's residents have insisted the standard of care is high, and have criticised the authorities for not giving them details of their concerns.
Alison Carroll, whose mother Elizabeth has been living at Muirhead for more than two years, said: "I am in (the home) about three times a week depending on how my mother is, and I have never seen anything but kindness and care.
"I'm not saying there are no problems - I don't know - but I can only talk of being there over two-and-a-half years for hundreds of hours cumulatively and I've only ever seen really excellent treatment.
"I don't want my mother to go anywhere else. I chose here (Muirhead) because of the quality of care and everything that I have seen has backed up that I made the right decision."
She added: "I want my mother to be somewhere where she's known and her likes and dislikes are catered for and she is looked after the way I would have liked to look after her.
"I'm hoping that eventually someone will tell us something about what's going on. All the relatives are in the same position - no relative has ever expressed concern."
A Police Scotland spokeswoman said: "Police are working with partners including the Care Inspectorate and Aberdeenshire Council after concerns were raised regarding Muirhead Care Home in Alford, Aberdeenshire.
"Inquiries are at an early stage and are ongoing."
Iain Ramsay, from Aberdeenshire Health and Social Care Partnership, said: "Our teams have been working closely with the Care Inspectorate to provide support to the residents and their families."
The Care Inspectorate has set up a phone line for anyone with concerns. Anyone who wants to talk to the authority can contact them on 0345 6009527, anonymously if needed.
In a statement, the directors of the home said it had been committed to providing high-quality care since 1987.
"We were only made aware very recently that the quality of that care was being questioned," they said.
"We have given an undertaking to the court that we will provide an action plan to address those issues of concern which we have been made aware of.
"We expect to work closely with the Health and Social Care Partnership to ensure that they are reassured by the steps being taken and trust that we will have their full co-operation as we work together to ensure the best care for our residents."