Ripped-up lottery ticket wins £58m jackpot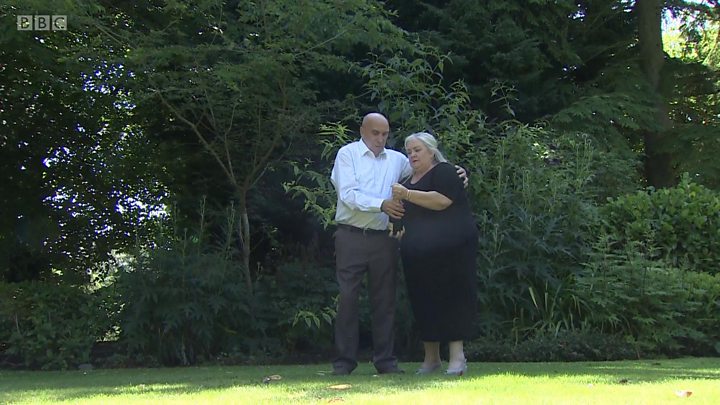 A retired couple have won a £58m lottery jackpot - despite the winning ticket being mistakenly ripped in two.
Fred and Lesley Higgins, from Aberdeenshire, matched all the numbers in the Euromillions draw on 10 July.
But when Mr Higgins checked his numbers, the shop assistant initially told him it was not a winner, ripped up the ticket and threw it away.
When the machine then told them to contact Camelot, it was quickly retrieved from the bin.
When he got home and checked the numbers, Mr Higgins discovered they had scooped a total of £57,975,367.
Mr Higgins, 67, and his wife Lesley, 57, from Laurencekirk, were regular players of the Tuesday and Friday draw.
Ripped in two
Mr Higgins took last week's tickets into his local shop to be checked while he bought his tickets for the following week.
He asked the retailer to run them through the machine in case of a winner.
He said: "I handed the ticket over and the young man put it through the machine, telling me it wasn't a winner.  He ripped the ticket in two and threw it into the bin, as they would with all non-winning tickets.  But this time, the terminal produced a chitty which said I needed to retain my ticket and call Camelot.
"The retailer immediately grabbed it out of the bin and handed it to me, not realising it was a winner before he discarded it."
Although the ticket had been torn in two, all the numbers were still clear, so Mr Higgins took it back home to make the call.
While his wife was having a nap, he logged onto the National Lottery website to double-check the numbers.
He said: "The first matched, then the second matched, match, match - we had them all.
"When Lesley woke, I explained we had a winning ticket and what had happened. I showed her the numbers, asked her to check and she misread them, thinking we were £5.7m richer rather than an amazing £57m.
"I felt really calm at that point - I think it was just sinking in - so I then called Camelot and explained what had happened."
The torn ticket made processing the win slightly more complicated. A security team came out to see the couple and visit the store to check the course of events and look at the CCTV footage.
The couple revealed they had kept the ticket at their home while the investigation took place.
Mrs Higgins, who worked as an account manager at the Montrose Port Authority, said: "It was in an envelope, in a filing cabinet, up the stairs. And I had written on the envelope, in red letters, Money Worries Over!
"It was there for a whole week and the only person we told was my daughter."
With the money firmly in their account, the couple - who have been married for 35 years - have already made their first purchase, a brand new Audi Cabriolet.
Mr Higgins, a retired Audi administrator, said: "We had a really comfortable life before the win but we did have dreams of living abroad.  We love Gozo, which is where my niece lives, so we always thought we would get somewhere out there.
"But I have to say since we won, I've got my eye on somewhere in France and Lesley seems to be looking at property in Barbados. I think it might be fun to explore a few places before we commit to buying anything."
And as a keen collector of malt whisky, Mr Higgins said there may be a few more to add to his collection. 
He added: "It is our wedding anniversary on 20 August and my birthday a couple of days later, so I think a celebration is in order before we decide what comes next."
The couple bought and checked their winning ticket at the Scotmid in High Street, Laurencekirk.
The assistant who threw away the ticket was Sean Grant. He told the BBC it was out of habit that he binned the £58m ticket: "Mr Higgins came in with 2 lottery tickets for me to check.
"The first one wasn't a winner so I binned it. The second one was a winner but I didn't expect it to be that much. I just ripped it and binned it because 99% of people don't want the ticket returned to them.
"I went back to the lottery machine and it said it was in excess of what we could pay so I had to get the ticket out of the bin and return it to Mr Higgins."
He added: "I apologised and said that he had to phone Camelot and that he had won a decent amount of money but I didn't expect it to be that much, mind. To hear that they had won £58m was just amazing and for a local couple it's even better. I don't even pay out £50 or £100, never mind £58m."
A spokeswoman for Scotmid said: "Huge congratulations to Fred and Lesley Higgins - we are delighted for them. We have been working closely with the winners, Camelot and our store management to support due process.
"The individual concerned acted quickly and openly and rectified the situation. The most important thing is that two people's lives have changed forever and all involved agree this was an honest mistake that was immediately rectified, reported and resolved."
The winning Euromillions numbers from the draw on 10 July were 3, 8, 26, 33, 45 and the two Lucky Stars were 7 and 10.
Scotland's lottery winners
Chris and Colin Weir - £161m
Colin and Christine Weir became the UK's biggest lottery winners when they scooped £161m in a Euromillions draw in July 2011.
The couple, from Largs, North Ayrshire, have used their money for political and charitable causes.
They have invested heavily in Partick Thistle football club, donated a significant amount to the SNP and the Yes Scotland campaign and launched the Weir Trust, a philanthropic venture to support Scottish charities and community projects. It has given away about £5m since it was founded.
David and Carol Martin - £66m
The couple from Hawick in the Scottish Borders won £66m in a National Lottery jackpot in January 2016.
Carol said she was stunned when her husband said they had won. "I thought he was just joking," she said. "I couldn't believe it."
Tommy and Linda Parker - £25m
Retired East Lothian man Tommy Parker vowed to build his wife Linda a house after their £25m win in the lotto in October 2017.
An arthritis sufferer, Linda found it difficult to get around unaided.
Tommy's dream was to give Linda a home without stairs that she could be comfortable and happy in.