New pictures show Orkney's sea eagle chicks in the nest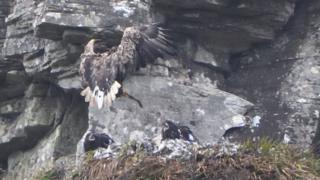 New photographs show the best views yet of two sea eagle chicks in a nest high on cliffs in the Orkney island of Hoy.
Retired teacher Ian Cunningham tried several times to photograph the birds, and got these images a few days ago from near the Dwarfie Stone landmark.
He watched as one of the adults brought what looked like an eel to feed the chicks.
It is the first time the birds have bred successfully in Orkney in 145 years.
Mr Cunningham said the birds are "wonderful ... to watch flying".
He said the chicks were quite active and "clearly strengthening their wings with much flapping around the nest".
Both of the chicks have been tagged with large blue identifying letters.
Ian McNab from RSPB Scotland in Hoy said the tags would not impede or hurt the birds.
"They are useful identification marks so we can monitor where they go, work out their ranges, and keep a check on what they are eating.
"We'd hope they would stay on the birds for as long as possible, perhaps for the next few years."
Ian McNab told BBC Radio Orkney sea eagle chicks would normally stay in the nest for around 12 weeks after hatching.
But these birds are so high up on cliffs it may take a few more weeks before they are ready to launch themselves off.
"It's all or nothing for these chicks", he said.
Once they have left the nest, the young birds are expected to stay around the nest site - and may even continue to rely on their parents to feed them for a time.