Osprey chick dies during RSPB ringing in Huntly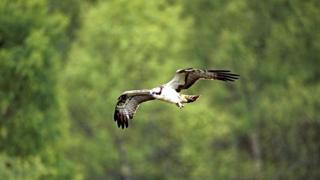 An osprey chick has died in Aberdeenshire after a "tragic error" as the RSPB tried to ring it in its nest.
Two RSPB staff were involved in the operation near Huntly when the young bird fell to the ground.
The wildlife charity said it was only the second incident where an osprey chick had died as part of the ringing procedure in more than 50 years.
The RSPB said: "This heartbreaking accident has left everyone involved distraught."
The RSPB said the team involved were highly-experienced and were following strict guidelines.
The incident has been reported to the British Trust for Ornithology and the RSPB said it would take on board any recommendations.