Restored old lifeboat returns home to Buckie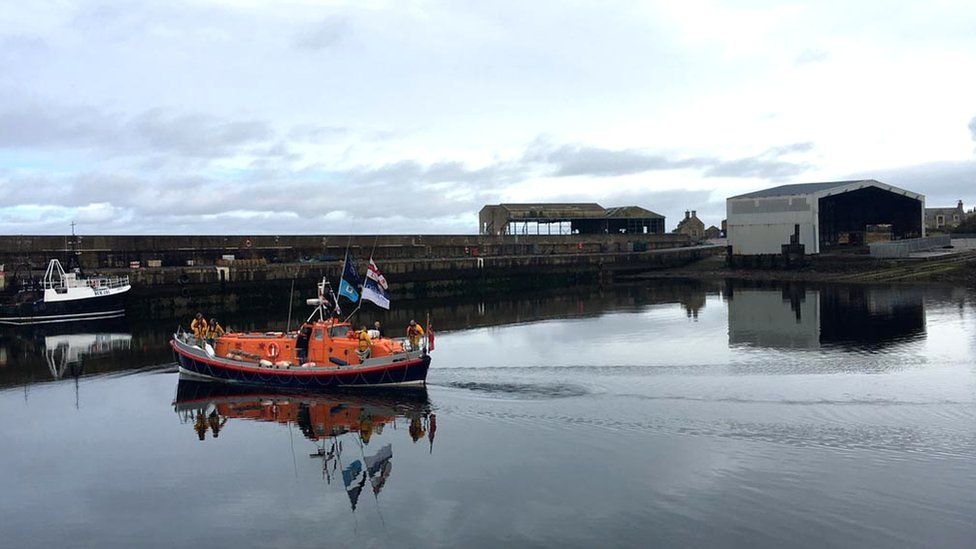 A restored old lifeboat has returned to Buckie harbour.
The Laura Moncur served the Moray coastline between 1961 and 1984.
Many years later, Mark Waltham found the lifeboat rotting out of the water at a harbour near Great Yarmouth, who lovingly restored it as a project.
Buckie RNLI lifeboat coxswain Alan Robertson said: 'It's very emotional to see the Laura Moncur again after so many years. She was a great servant to Buckie."
The Laura Moncur was escorted into the harbour by the William Blannin, Buckie's current lifeboat, for the weekend visit.
Former Buckie lifeboat, the Laura Moncur, has returned to the town after being restored. It served the Buckie area between 1961 and 1984. pic.twitter.com/3Q4U5ohoWc

— Rachel Bell (@rachelbellABDN) July 20, 2018
Mr Robertson explained: "The difference in technology between the Laura Moncur and the William Blannin is quite surprising - for example, the Laura Moncur could only manage a top speed of nine knots whereas the William Blannin can do 25 knots.
"For many years the Laura Moncur sat rotting out of the water at a harbour near Great Yarmouth when she was spotted by Mark, who was looking for a boat to restore.
"He's brought her back to her former glory after investing a lot of time, money and energy in her.
"After he'd completed the restoration he got in touch with us. It's sad to think of a vessel like the Laura Moncur, which helped so many people, just lying there out of the water falling to pieces, so it's great to see her in all her finery again after such a long time."
Kenny Farquhar, a former Laura Moncur crew member, said: "Without people like Mark and other enthusiasts you'd lose the vessel itself, all you would have was pictures.
"For something to rot it's heartbreaking for a vessel like that.
"I am over the moon, to see her again back in her home port.
"It brings it all back, this is the happiest day for a long, long time."
Related Internet Links
The BBC is not responsible for the content of external sites.