Fishermen told to move boats from Cove Bay after legal dispute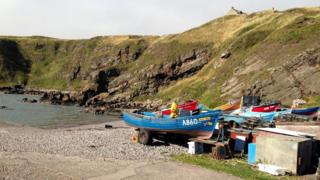 Fishermen have been told to move their boats from an Aberdeen bay after a long-running dispute.
Several fishermen were fighting an eviction order on behalf of landowner Pralhad Kolhe at Cove Bay, where they had been fishing for many years.
In a written judgement, a sheriff has given them 28 days to move their boats and equipment from Mr Kolhe's land.
However, Sheriff Andrew Miller also ordered the removal of obstructions to vehicular access onto the pier.
The case was heard at Aberdeen Sheriff Court earlier this year.
One of the fisherman, Jim Adam, told a court he was "stunned" to receive a legal letter telling him to remove his boat.
He had been fishing from Cove Bay since 1966.
'We were hopeful'
The first day of the hearing heard the letter said the landowner, who lives in a house overlooking the harbour, was unable to make use of his land for amenity purposes and that he did not wish Mr Adam's vessel, or any other vessel, on his land.
In the ruling, Sheriff Miller also gave Mr Kolhe 28 days to remove the obstructions to vehicle access to the pier.
Mr Adam told BBC Scotland: "We are disappointed, we were hopeful.
"The good news is at least for the recreational folks they have got vehicle access."