Minute's silence for Piper Alpha's 167 victims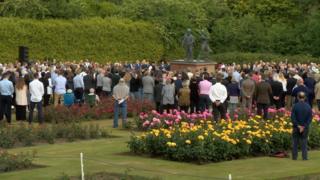 A minute's silence has been held in Aberdeen in memory of the 167 men who lost their lives in the Piper Alpha disaster 30 years ago.
The name of each worker was read aloud at a service attended by hundreds of people at the Piper Alpha Memorial Garden in Aberdeen's Hazlehead Park.
The platform, 120 miles north east of Aberdeen, exploded on 6 July 1988.
The North Sea tragedy remains the world's worst offshore disaster. Sixty one people survived the disaster.
A piper played a lament and prayers were said before wreaths were laid by Aberdeen Lord Provost Barney Crockett and Oil and Gas UK chief executive Deirdre Michie.
Wreaths were also placed at the statue by Baroness Annabel Goldie, representing the UK government, and Scotland's Energy Minister Paul Wheelhouse.
Members of the public then queued to lay flowers they had brought, many of them wiping away tears.
The Rev Gordon Craig, chaplain to the UK offshore oil and gas industry, told those attending: "Thirty years ago tonight, 167 men died in the worst disaster to befall the oil and gas industry.
"It was a night that changed many, many things. For the families at the heart of the tragedy, life would never be the same, as they were forced to cope without loved ones and the hole that was left in their lives.
"So many families living in the city knew others - friends, neighbours, colleagues - who were directly caught up in the events of 6 July 1988."
He added: "To this day, many can tell you how they watched the fleet of helicopters shuttling to the hospital, and of course the staff of the hospital, who dealt with the aftermath of it all."
The Piper Alpha platform was set ablaze after a series of explosions, the result of gas from a leaking pump igniting.
Lord Cullen's report into the disaster after a 13-month inquiry led to a radical overhaul of safety practices.
All 106 recommendations for the oil and gas industry were accepted.
Following the memorial, Mr Wheelhouse said: "It was a very moving service. We have to remember that those 167 individuals gave their lives to produce the energy we take for granted.
"The industry needs to remember what happened and make sure it never happens again."
The service was streamed live on the UK Oil and Gas Chaplaincy Facebook page so anyone who wanted to see it - including workers offshore - could be involved.
---
One Piper Alpha survivor, Geoff Bollands, told BBC Scotland before the service: " I remember it like it was yesterday. It's very vivid.
"I managed to get out and off the platform about two minutes before the big fireball - a very sad moment because you knew when that fireball went up there would be people who were caught up in it.
"I'll always be grateful that I got off. That I saw my children grow up and that I have grandchildren now.
"But looking back 30 years you can't help thinking about my colleagues and friends who didn't survive. And their families will be very sad remembering the occasion."
'Never forget'
Before the service, Ms Michie said: "The coming together of industry is so important, reinforcing as it does that we continue to honour and keep in our thoughts, those who died as a result of that awful tragedy.
"It is an important milestone in what is an ongoing journey - one in which we need to ensure every generation shares our determination that it will never happen again."
Les Linklater, executive director of the Step Change in Safety group, said of the live service broadcast: "It's really important that everyone involved in the oil and gas industry, particularly those working offshore, have the opportunity to watch and be part of the Piper Alpha 30th Act of Remembrance."
---
Lord Provost Barney Crockett added: "The Piper Alpha tragedy was 30 years ago, yet the events of that night are as shocking today three decades on. It will forever be imprinted on the Aberdeen memory.
"We will never forget the 167 men who died in the tragedy - dads, sons, brothers, uncles, nephews, partners, friends and colleagues, and that is why it is so important that the City of Aberdeen and industry come together for this Act of Remembrance."
The Health and Safety Executive (HSE) said in April it had written to all oil and gas operators expressing concern about the number of gas releases in the industry.
The regulator said some had come "perilously close to disaster" and that more needed to be done to tackle them.