Elgin maternity services being downgraded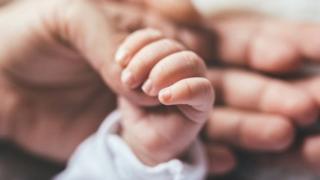 Maternity services at Dr Gray's Hospital in Elgin are being downgraded due to staffing shortages.
Some pregnant women who are considered to be medium to high risk will need to travel to Aberdeen or Inverness to give birth from mid July.
NHS Grampian said it was the only option given low staff numbers, and it had to ensure women and children receive safe and sustainable care.
Moray MSP Richard Lochhead said the system for rotas was broken.
Sue Swift, NHS Grampian's divisional manager for the women and children's service, said: "We want to be absolutely clear that some medium and high risk pregnancies will need to be booked to birth elsewhere to ensure the safety of mum and baby.
"This is not a change we wanted to make but, in the end, it was the only option given the low staff numbers.
"It is critical that we ensure women and children receive safe and sustainable care.
"The new arrangements will begin on 18 July."
Patient safety
Mr Lochhead said: "This is hugely disappointing news given that staff recruitment problems mean that more women will now be transferred to other hospitals out with Moray to give birth.
"In terms of how safe rotas are configured in our hospital wards, the system is clearly broken, with too much reliance on using trainee doctors who can choose where to go.
"This needs to change, and change quickly."
Scottish Health Secretary Jeane Freeman told BBC Scotland's Good Morning Scotland programme: "The downgrade is temporary. It is driven by patient safety.
"Before agreeing to that I made absolutely sure I had the right assurances and detail to make sure women in that area would be safer as a consequence of the downgrade."
The Keep MUM (Maternity Unit for Moray) group has been campaigning to protect services at Dr Gray's.
'Really deflated'
Keep MUM chairwoman Kirsty Watson said: "I have grave concerns, for women and babies. How can it ever be safe to go in ambulance when you are in labour, to travel at least a 90-minute journey.
"The staffing issues are not new issues.
"We have had a lot of support. I feel really deflated."
A Scottish Government spokesman said: "These changes will ensure the safety of women and babies, which is paramount.
"We have sought assurances women are fully briefed on the changes and those booked for delivery over the summer fully understand them.
"We also expect NHS Grampian to work with regional partners to ensure women have a choice of delivery place and are safely transferred when required.
"We are doing all we can to recruit new talent and retain existing staff to provide the right skills and experience to meet demand."